International Marine Conservation Organization Honours Sea Communities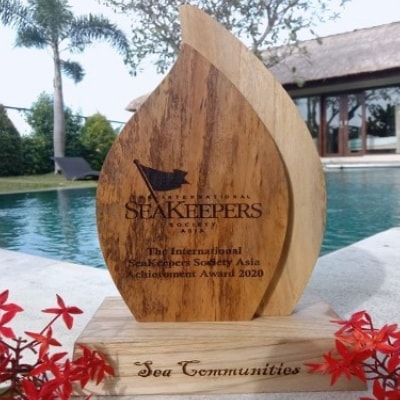 Bali, Indonesia
March 9, 2022
Every year The International SeaKeepers Society, Asia, recognizes the marine conservation community for their extraordinary efforts and commitment to marine conservation.
In 2020, the SeaKeepers Asia Achievement Award was conferred to Sea Communities, located in Bali, Indonesia, in acknowledgment of their exemplary work as a social enterprise and direct role in conservation management.
Even though the award event scheduled that year was not held due to the pandemic, the award itself has since found its way to Bali for presentation to Cipto Aji Gunawan, Co-Founder of Sea Communities. Rose Huizenga, Director, Gili Shark Conservation travelled to Bali to present the award on behalf of The International SeaKeepers Society, Asia.
Sea Communities works with the village of Les which is located in North Bali. Based on the concept of volunteer and educational tourism, Sea Communities has developed programmes that provide the funding and human resources needed to rebuild the reefs of Les and improve the livelihoods of the villagers. The programmes include Reef Rehabilitation, English Lessons, Sea Salt Farming, and Plastic Waste Management community outreach programmes.
Partner Sites
Sea Communities
Photo Gallery
This slideshow requires JavaScript.