International Coastal Cleanup Day 2022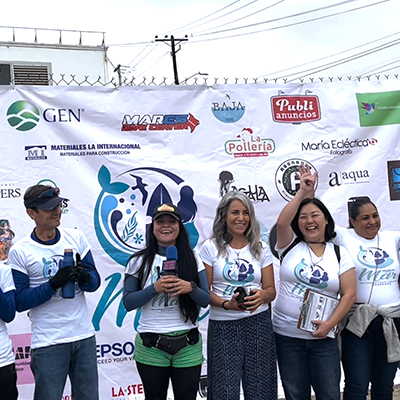 Tres Emes, Mexico
September 17, 2022

Overview
On Saturday, September 17th, 2022, Miami wasn't the only place a cleanup was held in celebration of International Coastal Cleanup Day. Over 230 people gathered with The International SeaKeepers Society to clean up Tres Emes beach in Mexico, to clean up the largest amount of trash collected during a single beach cleanup in all of SeaKeepers' history!
In collaboration with Mujeres por el Mar, a conglomerate of female-led ocean conservation volunteer groups, the entire community of Ensenada came together for this event and collected over 6,000 pounds of trash from this famous surf spot. Over 80% of the trash collected was discarded construction debris, and the remaining trash consisted of concrete blocks, styrofoam, bottle caps, cigarette butts, plastic utensils, and various other glass and plastic debris. Not only were 200 meters of coastline covered on land, but 200 meters was also cleaned underwater, with Mexico's first ever dive cleanup being conducted. Beneath the surface, volunteers retrieved tires, nets, and discarded fishing gear. Tres Emes is unfortunately known as one of the most polluted beaches in North America, but the only beach with public access in the area of Sauzal. Small businesses and local shops donated all supplies needed for the cleanup, proper disposal process, and a raffle for participants at the end. The day was full of festivities celebrating the ocean, with a mural painting happening simultaneously with the cleanup highlighting different organisms that call Tres Emes home. Lunch was prepared by some of the volunteers for everyone after the cleanup, and happy tears were shed seeing that the mission to restore the area's only public beach has begun. Locals that founded the town, fishermen, and their families can now once again enjoy this beach.
SeaKeepers would like to recognize the incredible woman who initiated the cleanup plan, Maria Luisa Ecléctica Gutierrez. Maria is a diving instructor and passionate photographer who has been documenting and photographing nudibranchs and mollusks. She recently won a photography award in Mexico despite having no professional camera or equipment. She has dedicated her life to raising awareness for these creatures and the ecosystem of the pacific waters of Ensenada. Because of her, a multitude of organizations and hundreds of people came together to clean Tres Emes and will continue to care for their coastal environments.
Outing Goal
CleanSwell is a trash collection mobile app developed by Ocean Conservancy and utilized by volunteers at each of our cleanups that allows them to record the types and quantities of trash found during their clean. Our mission at SeaKeepers begins with the foundation of research followed by the education of communities that empower them to protect and restore the surrounding coastal and marine environments. Data from the CleanSwell app is included in a global database that scientists everywhere can access and provides a means of identifying pollution trends that are location specific. Using CleanSwell at our cleanups involves community members in the Ocean Conservancy's pursuit of evidence based solutions for a healthy ocean and the wildlife and people that depend on it, as well as provides the data necessary for effective local legislation to be written accomplishing the SeaKeepers' goal of protection and eventual restoration. During this cleanup, paper versions of the trash catalog were used, and printed for participants in Spanish. Check back soon for statistics on how much of the trash was accounted for, while we wait for paper data to be uploaded to the Ocean Conservancy database.
Photo Gallery
This slideshow requires JavaScript.