Project Baseline Expedition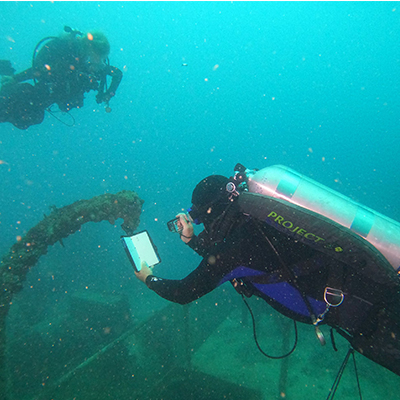 DISCOVERY Yacht Surface Interval
June 13-15th, 2021
On June 13th-15th, The International SeaKeepers Society assisted Rick Thomas in his participation of the Citizen Science initiative, Project Baseline aboard the DISCOVERY Yacht Surface Interval; a 30' Proline center console.
Project Baseline was started by Dr. Todd Kincaid and Global Underwater Explorers as an effort to document the drastic, but gradual changes taking place in coral reefs through out the world. The concept is that if you can create a baseline via photographs and pictures of how the reefs look at a particular point in time, you can then return to those "baseline stations" and compare the state of the same reef site. This would eventually become a database for assessing the health and change of coral reefs over time, and hopefully this evidence can influence policy change as well as everyday behaviors of the public that may be contributing to reef degradation.
Rick was joined on this expedition by his two sons, as well as dive experts Alex Gilson, his wife Hazel, Jimmy Gadomski, and Dani Pierbone. Over a few days, they set up baseline stations at an artifical reef off of Key West (a sunken ship; USNS Vandenberg), and a couple other natural reef sites such as Sombrero Reef, just off of Marathon Key.
Eventually, the team, or any other divers can visit these sites and document any change that may have occurred.
Partner Sites
Project Baseline