Monthly Morningside Park Cleanup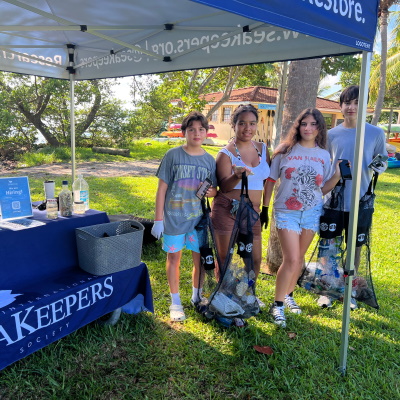 Miami, Florida
August 27, 2023

On Sunday, August 27th, 2023, The International SeaKeepers Society hosted a beach cleanup at Morningside Park, one of our monthly cleanup locations. We were joined by 22 volunteers who set out with bags and buckets to clean as much trash as possible from the park's grass, especially focusing on the shorelines, where much of the litter becomes trapped following a lot of rain. Thanks to Morningside Watersports, our volunteers were given the opportunity to rent kayaks and paddle boards at a discounted price, allowing them to clean the bay directly. A few of our volunteers even brought their own kayaks, and came back with multiple bags stuffed with trash! By the end of our cleanup, we had collected over 104 lbs of debris from the park, shoreline, and the bay itself. This debris included a very large fishing net, and many bottle caps, food wrappers, and plastic fragments. Debris both small and large can pose a huge threat to the animals that reside in Biscayne Bay by putting them at risk of entanglement or starvation due to plastic ingestion. This is why we depend on our volunteers to help us remove as much debris as possible, and we are thankful to everyone who came out on Sunday to assist!
Marine Debris Tracker is a data collection app that allows the general public to contribute to an open-date platform and scientific research by recording the different types of litter, specifically plastic pollution, that they find in either inland or marine environments. Marine Debris Tracker was developed by the University of Georgia's Jambeck Research Group, which SeaKeepers worked with in 2021 when the Jambeck Research Group collaborated with Ocean Conservancy to assess Miami's plastic waste management, known as a Circularity Assessment Protocol. SeaKeepers again assisted the Jambeck Research Group's Circularity Informatics Lab in 2022 with another Circularity Assessment Protocol in the Florida Keys.
The researchers of the Jambeck Lab use the Marine Debris Tracker app to record their data, and with citizen scientists also using the app, more data can be collected in different areas. Using Marine Debris Tracker at our cleanups involves community members in creating a bigger picture of plastic pollution, and provides the means for new scientific findings to be generated as well as for effective local legislation to be informed. SeaKeepers is excited to be incorporating this app at our cleanups and continue our mission of coastal education, protection, and restoration. In this cleanup, 38% of volunteers participated in using the app to record data.
Photo Gallery
This slideshow requires JavaScript.