Monthly Park Cleanup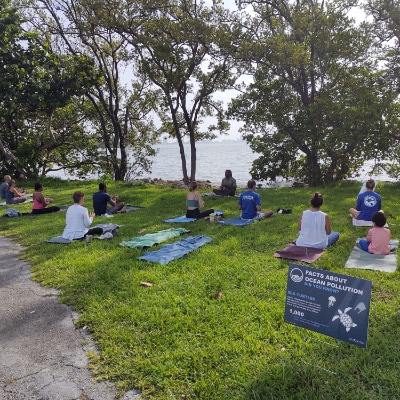 Morningside Park
August 22, 2021
On Sunday, August 22nd, we made our monthly visit to Morningside Park with around 30 volunteers who helped us take away 105 pounds of trash from one of our favorite places. Not only was this a great day for Morningside, but this extra poundage put SeaKeepers over the edge of 7,000 pounds collected from beaches and coastlines since our organization began cleaning!
On another great note, 11 of our volunteers recorded what they found on the CleanSwell app, allowing their data to show scientists which types of trash are a bigger problem in our area. Among some of the biggest offenders are bottle caps, plastic bags, and plastic straws, tallying in at 297, 71, and 47 respectively - and that's only what was recorded. A huge thank you to those volunteers who recorded their collections on CleanSwell, data is the first step towards lasting and impactful policy change and we are so glad you've been involved in making that difference. Volunteers that utilized the CleanSwell app were entered into a raffle to win a hydroflask cup and reusable straw. Congratulations to Kristen for winning our raffle and taking home a new way to live sustainably! We were also excited to have members of Christopher Columbus High School's CCNN Live present to capture our volunteers in action.
We want to give a special thank you to our Cleanup Sponsor, HomeLight, a real estate referral company. With their help we were able to fund a portion of our supplies and set up a beautiful cleanup at Morningside Park. Thank you again to everyone who spent their beautiful, sunny Sunday morning being wonderful stewards of our environment, and special thanks to our partner Awareness Into Action for combining forces to allow our volunteers to clear their heads and connect with their seaside environment through yoga. We can't wait to see what the future holds for trash collection, collaborations, and citizen science and are excited to be doing it with all of you.
Partner Sites
HomeLight
Volunteer Cleanup
Awareness Into Action
Photo Gallery
This slideshow requires JavaScript.