2023 Educators Conference at The Island School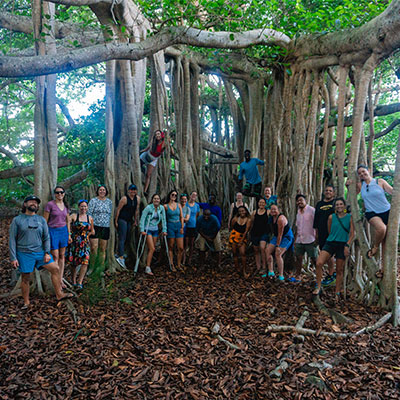 Eleuthera, Bahamas
July 21-27, 2023
Overview
During the week of July 21st to 27th, 2023, The International SeaKeepers Society's Community Engagement Associate attended the 2023 Educators Conference at the Island School in Eleuthera, Bahamas. Joined by 15 other educators from as close as Nassau, Bahamas, to as far as Saychelles, Africa, she spent the week learning The Island School's philosophy of experiential learning and forming meaningful connections with other educators.
They spent the week living and eating alongside 59 summer term high school students, and participated in many of the activities the students do. The educators engaged in the experiential learning activities such as snorkeling, SCUBA diving, and participating in ongoing research projects such as helping Fish Physiology professor Emma Porter place loggers to gather data. The data retrieved from those loggers will be used for her ongoing research under Dr. Kurt Gamperl, a comparative physiologist investigating how blood oxygen level and heart function allow fish to adapt to their environments, and how these functions are influenced by climate change.
In addition to experiential learning, the invited educators realized how important community is at The Island School, and learned ways to foster that sense of community through activities such as morning and evening Circle, and educational tools like the Harkness Circle. The Island School promotes "place-based learning", an educational method that encourages students to find a sense of place and to explore and learn within that community. Throughout the week, the educators engaged in this type of learning by discussing literature about the history of the colonization of the Bahamas, and by attending the down island trip that encourages participants to get out in the community and create relationships with and learn from local people.
By participating in The Island School's activities and interacting with the summer term students, it is evident that getting students out in the field and allowing them to participate in hands-on activities sparks interest and encourages curiosity.
Our Community Engagement Associate left feeling inspired by the connections formed and experiences had at The Island School, and the International SeaKeepers Society is excited to adapt some of their teaching philosophies to be applied to our own educational program in Miami.
Outing Goal
The goal of this conference is to learn the teaching philosophy and style of The Island School as well as forming connections and learning from other educators.
Partner Sites
Partner Logo

Photo Gallery
This slideshow requires JavaScript.