Changkat Secondary School participates in Fishx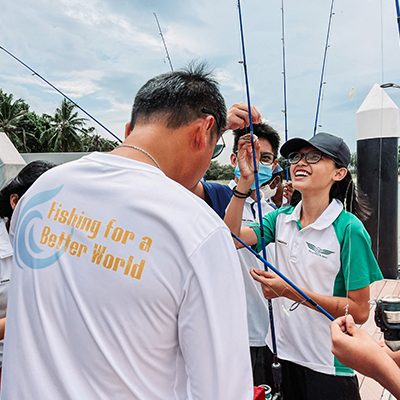 Singapore
June 2, 2022
On Thursday, June 2, 2022, in partnership with Marine Stewards and the Singapore Island Cruise, 36 Changkat Changi Secondary School students joined a learning journey excursion as part of the International SeaKeepers Society Asia Educational Outreach programme to learn about sustainable fishing practices and marine conservation.
Leaving the Marina Bay South Pier on board a Singapore Island Ferry, the students spent the better part of a morning at Lazarus Island and at the St John's Island Marine Park Outreach and Education Centre -Public Gallery where they discovered that Singapore has some gorgeous coral trails and learned about coral husbandry —its significance and impact on our Marine ecology.
Accessing Lazarus Island by a walking trail, facilitators from Marine Stewards shared the FishX sustainable fishing workshop, a programme where they learned about sustainable fishing and fish ID. After the theory workshop and question & answer session with facilitator, Captain Q, the students tried their hand at catch-and-release fishing off the jetty.
This was a first for many of them and they were thrilled to give it a go.
They learned about only keeping fish that have reached full maturity and releasing juveniles to ensure we always have a steady supply of fish in our waters. The students engaged with the guides and asked many questions about marine conservation and how they could contribute to their daily lives. From little things in the home to larger lifestyle choices.
Marine conservation isn't just up to governments and scientists. All of us play a significant role in slowing its decline for further generations so let's start with the kids —may their love and respect for the ocean and all she holds within save her.
Original article and photo credit: Marine Stewards Singapore
Partner Sites
Marine Stewards Singapore
Changkat Changi Secondary School
Singapore Island Cruise
This slideshow requires JavaScript.