Dive Against Debris Reef Cleanup with SeaExperience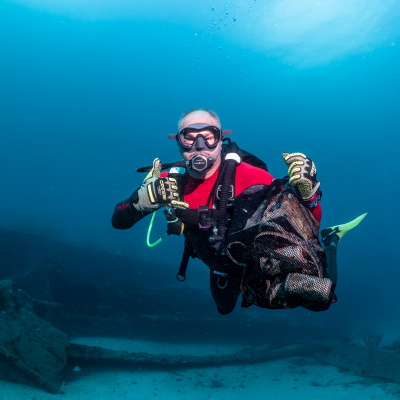 Fort Lauderdale, Florida
May 20, 2023

Overview
On Saturday, May 20, 2023, The International SeaKeepers Society co-hosted a dive cleanup with our friends at SeaExperience, a dive shop located in Ft. Lauderdale. SeaExperience is awarded the PADI Green Star to commemorate their efforts and dedication to conservation and identify them as a dive shop that cares about our coastal environment and actively takes steps to protect it. This weekend we had 10 divers helping to clean up the reef, collecting 14 pounds of almost all plastic cargo straps. We're super stoked to have collected so many as they are individually very thin, light pieces of trash - to collect 14 pounds is a LOT of plastic removed from our beloved reef environment.
This makes for a total of 55 pounds of trash removed from the reef this year alone! We're also excited that our new SeaKeeper, Aubri, was able to facilitate this cleanup and snap some incredible photos! 2 sites were covered in this outing, the first an artificial reef "Hog Heaven," the site of a wrecked barge sunken intentionally, which reaches depths of 60-70 feet. A structure at this site dubbed, "The Jungle Gym," is home to a plethora of life. The second dive was over "Oakland Ridges," and is a gorgeous drift dive. The conditions were incredible with 1 ft waves max and a visibility of about 50 ft. Some incredible wildlife was spotted as well, including a nurse shark, lobsters, a yellow spotted stingray, eels, hogfish, scorpion fish, sailfin blennies and mantis shrimp - all reminders of why we clean. We look forward to next month's cleanup with SeaExperience and are so grateful for their dedication to the mission of protecting the ocean.
Outing Goal
CleanSwell is a trash collection mobile app developed by Ocean Conservancy and utilized by volunteers at each of our cleanups that allows them to record the types and quantities of trash found during their clean. Our mission at SeaKeepers begins with the foundation of research followed by the education of communities that empower them to protect and restore the surrounding coastal and marine environments. Data from the CleanSwell app is included in a global database that scientists everywhere can access and provides a means of identifying pollution trends that are location specific. Using CleanSwell at our cleanups involves community members in the Ocean Conservancy's pursuit of evidence based solutions for a healthy ocean and the wildlife and people that depend on it, as well as provides the data necessary for effective local legislation to be written accomplishing the SeaKeepers' goal of protection and eventual restoration.
Partner Sites

Photo Gallery
This slideshow requires JavaScript.