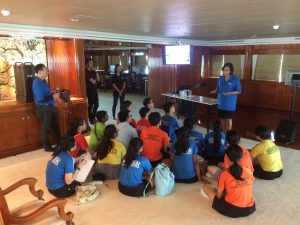 On January 26th SeaKeepers Asia hosted a "Floating Classroom" with 20 students from Deyi Secondary School on board DISCOVERY Yacht Asean Lady. This was the First floating classroom session for 2018 and the 2nd time that the Deyi Secondary School participated in the International SeaKeepers Society Asia Educational Outreach Program. The students are studying pure geography which covers the study of corals, perfectly matching the specialization of the lecturers from the Tropical Marine Science Institute of National University of Singapore. During the 4 hour session, topics ranged from understanding Singapore's Biodiversity to the effects of coral bleaching on the marine environment.
Despite the heavy rain, the students enthusiastically participated in the hands on learning experience of collecting water samples from the Marina and made some surprising discoveries when viewing the samples under the microscope. On the topic of 'how marine research is conducted', the students were treated to a dive gear demonstration. For most students, this was the first time they encountered dive gear and gained an understanding of the importance of the safety aspects when diving. In between the fun learning sessions, the students enjoyed a tea break organised by Raffles Marina.
As the final highlight of their learning journey, the Deyi students took a tour of DISCOVERY Yacht Asean Lady.
Special thanks to our Program Partners:
Photo Gallery
This slideshow requires JavaScript.