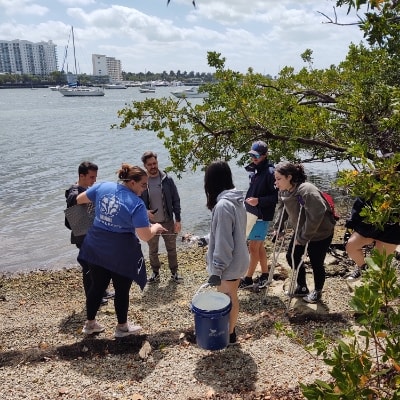 DISCOVERY Yacht River Queen
Biscayne Bay, FL
March 13, 2022
Overview
On Sunday, March 13th, 2022, SeaKeepers was back on DISCOVERY Vessel River Queen, BJM Rental's 40-foot passenger boat, with our friend Miami WaterKeeper and their Junior Ambassadors. The group was made up of high school students from local high schools in Miami-Dade all with unique perspectives and goals, and a shared interest in Biscayne Bay's marine environment. We showed students how to measure water quality parameters that included dissolved oxygen concentrations, pH and turbidity using EarthEcho kits, and then they were able to look at salinity, temperature, and chlorophyll concentrations with the YSI sonde, a multiparameter digital water quality meter.
The Junior Ambassadors are engaged in a year-long program with Miami WaterKeeper that teaches them about the Bay and its surrounding watershed, how to communicate scientific data to others with diverse backgrounds, and how to effectively advocate for change. This year's cohort of students are very bright and enthusiastic and were a pleasure to work with. They caught onto the equipment quickly and were using their observations to make hypotheses and draw inferences about the reasons behind the water quality we observed.
After our time sampling the water near the mouth of the Little River, a notoriously polluted area, we traveled to Pelican Island and picked up 60 pounds of trash, much of which was aluminum soda cans, plastic bags, and a lot of different foam products. While on the island, the Junior Ambassadors were able to use the SoFar Trident, a tethered underwater drone that takes high-quality pictures and video. They were able to get yet another perspective of the diverse underwater environment of seagrasses and small fish.
Despite the chilly morning, we had such a blast with Miami WaterKeeper and the Junior Ambassadors. As usual, we are so excited for our next partnership with them, and we are also so grateful for the expertise of Captains Shamsha and JD from BJM Rentals. We look forward to seeing all of you soon!
Partner Sites
Miami WaterKeeper
BJM Rentals
Photo Gallery
This slideshow requires JavaScript.