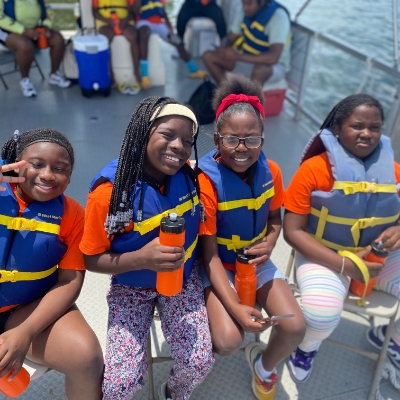 Shake-A-Leg Vessel,
Biscayne Bay, Florida
May 7, 2022
Overview
On Saturday, May 7, 2022, SeaKeepers facilitated a floating classroom with the Blue Scholars Initiative for a group of nine students from the Overtown Optimist Club aboard a Shake-A-Leg vessel. The Blue Scholars Initiative's mission involves engaging and empowering students through hands-on marine science education, and by partnering with SeaKeepers are able to accomplish this through our DISCOVERY Yacht Program.
The students from the Overtown Optimist Club are exposed to various academically and personally enriching programs during critical out-of-school hours, and this Saturday spent this time learning about the ecological and biological systems of Biscayne Bay. Students engaged in water quality sampling, watershed modeling, and a critter survey to study life in the Bay, and learn about human activities' effect on the organisms they saw.
Thank you to Blue Scholars Initiative, Shake-A-Leg, and the Overtown Optimist Club for helping to get students hands-on in science and in their environment.
Partner Sites
Blue Scholars Initiative
Shake-A-Leg Miami
Overtown Optimist Club
Photo Gallery
This slideshow requires JavaScript.