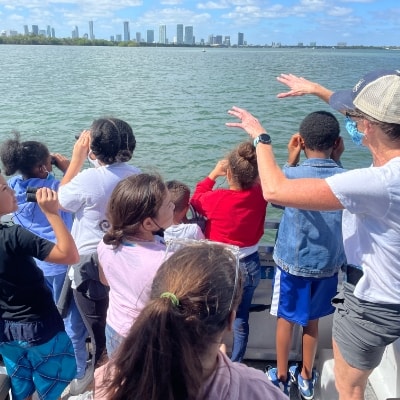 DISCOVERY Yacht River Queen
Biscayne Bay, Florida
February 26, 2022
Overview
On Saturday, February 26th, 2022, SeaKeepers hosted a floating classroom for the books. We had the wonderful opportunity to take a group of 17 3rd-7th graders from The Motivational Edge out on the gracious D/Y River Queen for water quality testing on the Biscayne Bay. The Motivational Edge is a non-profit organization focused on using various culturally relevant arts and educational platforms to engage and empower under-resourced youth. Their students were wonderful to work with and asked amazing questions.
After departing from Pelican Harbor Marina, Blue Scholars Initiative's curriculum started with a history lesson of Biscayne Bay's formation, habitats and animals that occupy it, and challenges it faces due to human activity. Students used binoculars to observe the environment around them and identify different critters for our ecological scavenger hunt that lasted the duration of our research cruise. The students then split into 2 groups where they were able to either use EarthEcho kits to test the Bay water's temperature, pH, turbidity, and dissolved oxygen concentrations or observe the flora and fauna scooped out of seagrass using a net. We were all so excited to be able to observe a baby seahorse, as well as the highlight of our trip - a pod of friendly and curious dolphins that got real close for everyone to see.
We are so grateful to The Motivational Edge for entrusting their students to us and for Blue Scholars Initiative for sharing these educational moments. We are also so thankful for Captains Shamsha and JD for being so welcoming and enthusiastic and look forward to working with you both again in the future!
Partner Sites
Blue Scholars Initiative
Motivational Edge
BJM Rentals
Photo Gallery
This slideshow requires JavaScript.