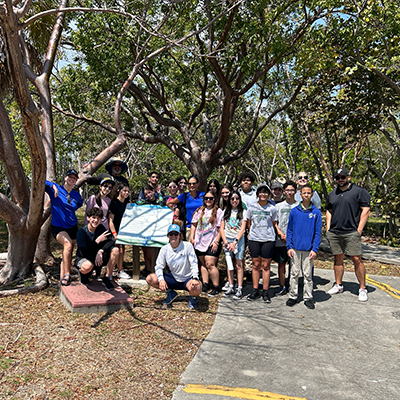 DISCOVERY Yacht River Queen
Biscayne Bay, Florida
March 8, 2023
Overview
On Wednesday, March 8th, 2023, The International SeaKeepers Society hosted a floating classroom with West Miami Middle School. We met with sixteen 8th graders and their chaperones at Pelican Harbor Marina where we boarded DISCOVERY Yacht River Queen. We made our way out into Biscayne Bay while the students were able to show off their knowledge about water chemistry as they listened to a briefing on the sources of fresh and saltwater in Biscayne Bay. We discussed how the water can be tested for factors such as dissolved oxygen, pH, and turbidity to assess its quality and how that water quality can affect the various marine organisms that live in the bay.
As we made our way into Little River, we were greeted by a manatee and a pod of dolphins that ended up staying with our boat for most of the day! After we returned to the bay, the students and chaperones used EarthEcho testing kits to measure some of the parameters we had discussed earlier, pH, turbidity, temperature, and dissolved oxygen level. While the students gathered their results, we were kept company by the same pod of dolphins swimming around D/Y River Queen, a real treat for everyone on board. Before returning to land, we made a stop at Pelican Island where the group engaged in a trash cleanup, gathering over 10 lbs of trash!
We regrouped and discussed the most common types of trash we saw and ways in which we can reduce the amount of litter we produce. The students had an excellent eye for upside-down jellyfish that had washed ashore on Pelican Island, and with SeaKeepers' assistance, we returned two to the water. The students and chaperones were lucky enough to end their day with a self-guided tour at the Pelican Harbor Seabird Station where they learned about the pelicans, gulls, owls, and other creatures that had been rescued for rehabilitation. We had an excellent afternoon with West Miami Middle School and are grateful for the help of the DISCOVERY Yacht River Queen.
Outing Goal
Students of West Miami Middle School gain a better understanding of the factors influencing water quality in Biscayne Bay and how we can prevent pollution with our lifestyle choices. We had an amazing time with the students and hope to host West Miami Middle School again in the future!
Partner Sites
Pelican Harbor Seabird Station, West Miami Middle School
Partner Logo


Photo Gallery
This slideshow requires JavaScript.