Floating Classroom and Island Cleanup with Miami Beach PAL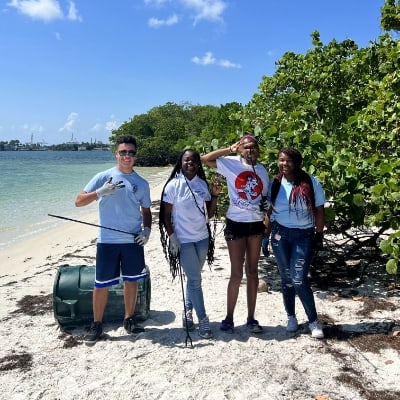 DISCOVERY Vessel River Queen
Miami, Florida
July 13, 2022
Overview
On July 13th, 2022, The International SeaKeepers Society co-hosted a cleanup with our partners Miami Waterkeeper aboard Watersports Associations' DISCOVERY Vessel River Queen. Departing from Pelican Harbor, a group of 22 students ages 14-17 from Miami Beach Police Athletic League's boxing program was taken to one of Morningside's Picnic Islands where they participated in a beach cleanup and collected 120 pounds of trash.
On the way over, the students learned about the importance of Biscayne Bay to the communities that surround it and the wildlife that lives in it, as well as how pollution affects the Bay. Students used binoculars to observe the Bay and its surroundings and practiced observational skills while identifying sources of pollution and drawing inferences about this. Students also discussed changes they could make in their daily lives to make a difference and move towards a more sustainable world. Miami Beach PAL exists under the leadership of a full-time police officer as Executive Director, and with vital assistance from a volunteer board made up of citizens and local law enforcement officers, offers the youth of the community an array of recreational, athletic, and educational activities. Their main objective is to create better relations between law enforcement officers and youth and to prevent juvenile delinquency. We appreciate PAL for providing this educational experience for their youth and are looking forward to working again with both Watersports Association and Miami Waterkeeper.
Outing Goal
CleanSwell is a trash collection mobile app developed by Ocean Conservancy and utilized by volunteers at each of our cleanups that allows them to record the types and quantities of trash found during their clean. Our mission at SeaKeepers begins with the foundation of research followed by the education of communities that empower them to protect and restore the surrounding coastal and marine environments. Data from the CleanSwell app is included in a global database that scientists everywhere can access and provides a means of identifying pollution trends that are location specific. Using CleanSwell at our cleanups involves community members in the Ocean Conservancy's pursuit of evidence-based solutions for a healthy ocean and the wildlife and people that depend on it, as well as provides the data necessary for effective local legislation to be written accomplishing the SeaKeepers' goal of protection and eventual restoration. On today's floating classroom, 80% of attendees participated in documenting their trash with the CleanSwell App, and just about all of the trash has now been accounted for by Ocean Conservancy.
Partner Sites
Miami Waterkeeper, Watersports Association, Miami Beach Police Athletic League
Partner Logo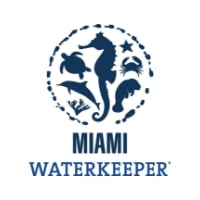 Photo Gallery
This slideshow requires JavaScript.