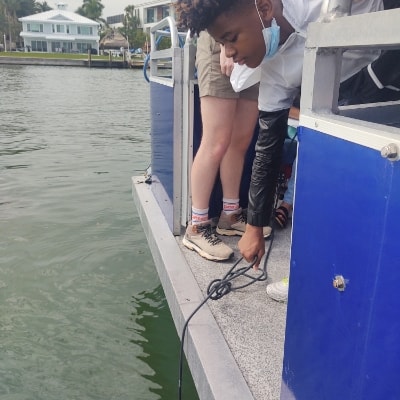 DISCOVERY Yacht River Queen
Miami Waterways
January 22, 2022
Overview
On Saturday, January 22nd, it was the official start to this year's floating classrooms, carefully curated lessons and activities performed aboard ship with our friends from Miami WaterKeeper to teach youth about the importance of our oceans and how to protect them, always focusing on areas and practices with direct impact on our community. Among Miami WaterKeeper's plethora of focus areas to advance their mission of ensuring clean water for Miami is developing youth into environmental leaders. They educate young minds about the importance of Miami's waterways and empower them to create change by equipping them with ways to change their lifestyles and advocate on a legislative level.
This weekend was our first time hosting Project T.H.U.G, "Transforming Hope, Unifying Generations," a nonprofit that provides middle and high school aged black and brown youth opportunities to serve their community through their 8-month intensive program. We absolutely loved having all of these students on board with us. Starting at the Pelican Harbor Marina, Miami WaterKeeper engaged students in a discussion about the Biscayne Bay, its ecosystems, role in our lives, and history. They all learned about the types of animals and plants that call the bay home and asked very thoughtful questions. Then, aboard DISCOVERY Yacht River Queen, we made our way down Biscayne Bay to the mouth of Little River, where we discussed different types of pollution and the ways they make it into the bay. They were all very bright and identified various sources of pollution by observing their surroundings and making inferences. Using EarthEcho kits, they all had the opportunity to get their hands on some real science, and measured water quality according to various parameters, like temperature, acidity, and salinity. Additionally, they were able to try out a Conductivity, Temperature, and Depth (CTD) probe from the boat. But that's not all - in typical SeaKeepers style we had a small beach cleanup on Pelican Island, where they collected 40 pounds of trash.
The boys of Project T.H.U.G were an absolute honor to work with and we love what this non profit is doing for our community. These students were extremely bright, and we are sure they are going to go back into their homes and schools more aware of how they and their friends can help protect the ocean and our Biscayne Bay in their everyday lives. We had such a great time with these students and hope to collaborate again in the future!
Partner Sites
Miami WaterKeeper
Project T.H.U.G
Photo Gallery
This slideshow requires JavaScript.