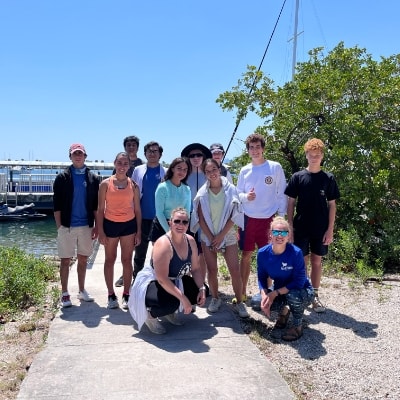 DISCOVERY Vessel River Queen
Biscayne Bay, Pelican Island
March 27, 2022
Overview
On Sunday, March 27, 2022, SeaKeepers hosted a Floating Classroom with the Junior Ambassadors of Miami WaterKeeper. DISCOVERY Vessel River Queen took our group of 10 high schoolers out onto Biscayne Bay to learn about its marine environment. Our site for water quality testing is the mouth of the Little River, where the river pours into Biscayne Bay. Using EarthEcho kits, students were able to measure parameters that included dissolved oxygen concentrations, pH, and turbidity, and then were able to look at salinity, temperature, and chlorophyll concentrations with the YSI sonde, a multiparameter digital water quality meter.
In addition to testing, the Ambassadors were able to use the SoFar Trident, a tethered underwater drone that takes high-quality pictures and videos. They were able to get yet another perspective of the diverse underwater environment of seagrasses and small fish. After water quality testing, we moved to Pelican Island to end our day with an island cleanup and picked up 21 pounds of trash.
The Junior Ambassadors are mentored by Miami WaterKeeper to become community leaders by gaining an understanding of issues impacting Biscayne Bay and the surrounding watershed, receiving training in civic engagement and advocacy, and sharing their acquired knowledge with diverse audiences. This falls right into what we hope to do here at SeaKeepers, where we believe the restoration of our beautiful coastal environment will succeed after research and education. We look forward to the next opportunity to collaborate with Miami WaterKeeper and are very thankful to Captains Shamsha and JD from BJM Rentals for facilitating this outing. Thank you all for your participation.
Partner Sites
Miami WaterKeeper
BJM Rentals
Photo Gallery
This slideshow requires JavaScript.