Floating Classroom with Miami WaterKeeper Junior Ambassadors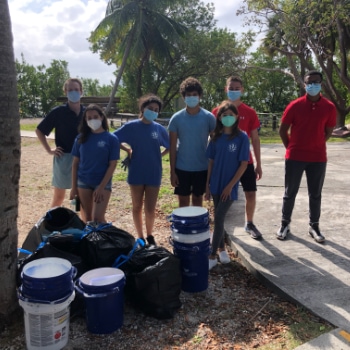 Floating Classroom with Miami WaterKeeper Junior Ambassadors
D/Y Julia / Pelican Island
February 2021
"On February 20th, 2020, 6 Miami WaterKeeper Junior Ambassadors were able to once again participate in a research cruise aboard Fleet Miami's Julia. Students from various surrounding high schools learned about their backyard environment and how scientists collect data that informs the public regarding issues of pollution and water quality.
The Junior Ambassadors were taken to the mouth of Little River as it connects to Biscayne Bay, where they performed various water quality tests to analyze properties such as dissolved oxygen concentration, pH, and turbidity using Secchi discs. They took their learning to the next level by also taking part in an island cleanup, resulting in 5 bags of trash collected, weighing in at 46 pounds!
A huge thank you to Miami WaterKeeper again for partnering with SeaKeepers to cultivate environmental consciousness and activism through the floating classroom program, and to Fleet Miami for providing Julia as the vessel with which to reach young minds. We look forward to continuing encouraging civic engagement and coastal advocacy with you again soon!"
Partner Sites
Miami WaterKeeper, Junior Ambassadors
Fleet Miami
Photo Gallery
This slideshow requires JavaScript.