Floating Classroom with Pelican Harbor Seabird Station and HITN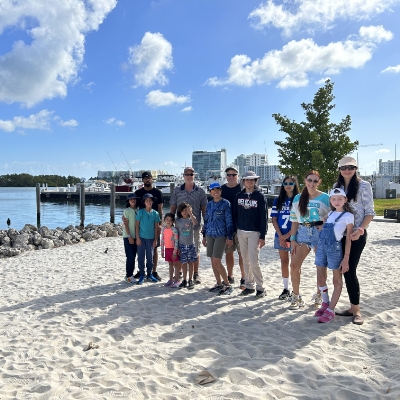 SeaKeapers' Vessel River Queen
Biscayne Bay, Florida
March 27, 2023
Overview
On Monday, March 27th, 2023 The International SeaKeepers Society partnered with Pelican Harbor Seabird Station to host a group of 13 multi-age students and parents from various schools aboard DISCOVERY Yacht River Queen. We were also joined by the Hispanic Information and Telecommunications Network (HITN), who documented this floating classroom as an Earth Day feature on SeaKeepers and the work we do to care for and educate people about our marine environments.
To start our day, we met our students and chaperones at Pelican Harbor Seabird Station, where Amanda Burke and Julie D'Errico of PHSS gave us a tour, and introduced us to some ambassador animals like owls, hawks, and pelicans! After completing our tour and completing a short coastal cleanup around Pelican Harbor Marina, we joined River Queen and made our way down Biscayne Bay to the mouth of Little River while discussing how the local watershed functions and results in different types of pollution in the bay, and how it can impact local wildlife like birds, reptiles, mammals, and even butterflies. Our students were excited to discuss the impacts urban areas have on adjacent waterways, and were even rewarded by being followed by a local pod of dolphins around Pelican Island! We finished the day with a wrap-up discussion about how our daily choices can impact the world around us and the many different things that we as individuals can do to help keep wildlife and our planet healthy and thriving, including reducing our waste production, minimizing greenhouse gas emissions, and following local wildlife recreation guidelines.
Outing Goal
We hope that these students were able to leave the floating classroom with a better understanding of how pollution impacts our waterways and wildlife, and how we can prevent different types of pollution in our everyday lives. We had such a great time and hope to work with Pelican Harbor Seabird Station again in the future.
Partner Sites
Partner Logo

Photo Gallery
This slideshow requires JavaScript.