In-Water Sea Turtle Monitoring at Foraging Sites in Costa Rica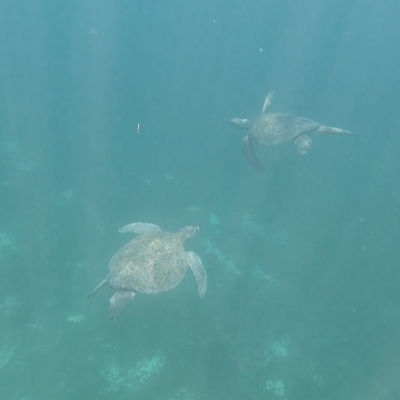 DISCOVERY Yachts Dardanella
Murcielago Bay and Santa Elena Bay, Costa Rica
August 26-27, 2023
Research Team
Randall Arauz, Randall Mora, Marlon Vargas Mora
Project Overview
Randall Arauz's research, in collaboration with Equipo Tora Carey, is used to better predict the behavior of green sea turtles, hawksbill turtles, and other species native to Costa Rica, in order to protect them more efficiently. Equipo Tora Carey is a local non-profit organization, founded by German marine biologist Maike Heidemeyer, which employs the local community of the Costa Rican fishing Village, El Jobo to gather this valuable data.
Duration of Project
Ongoing since 2014.
Expedition Summary
From August 24th-28th, DISCOVERY Yacht Dardanella journeyed from Culebra Bay in Guanacaste, Costa Rica, to Santa Elena Bay. This gave local marine biologist, Randall Arauz an opportunity to travel and work in collaboration with local turtle conservation non-profit, Equipo Tora Carey. Equipo Tora Carey, which translates to "The Green Turtle and Hawksbill Turtle Team" is a non-profit organization, founded by German marine biologist Maike Heidemeyer, but made up entirely of local fishermen from the El Jobo fishing Village.
Before arriving at Santa Elena Bay, the boat stopped near the Bat Islands in Murcielago Bay. There, Randall and charter guests witnessed about six or seven green turtles and a couple of hawksbill turtles while free diving. The next day, two parabiologists, Randall Mora and Marlon Vargas Mora from Equipo Tora Carey joined the expedition and caught a female green sea turtle in Playa Matapalito, in Santa Elena Bay. This turtle was then brought to the yacht's swim platform for a full work-up. This is like a doctor's office check-up, in which it is measured, weighed, and tagged to ensure future monitoring. A variety of tags may be used, but most often with sea turtles, a small metal tag is clipped onto one of their rear flippers. Additionally, and perhaps more importantly, a small grain-of-rice-like tag called a PIT tag is implanted in the animal. Passive Integrated Transponders, or PIT tags, are tracking tags that do not require power. Instead, they have an internal microchip that is activated when it passes close to a special antenna or reader. In this instance, using the PIT tag reader, Randall Mora was able to ascertain that this particular individual had been tagged in 2018. Recapturing an animal is valuable as it shows residency or at least that this individual returns to this location for foraging. It also helps inform the rate at which the animal is growing, depending on its age when first caught. Despite there being several other turtles in the area, they proved difficult to catch. However, simply observing how many there were between the Bat Islands to the south, and this one beach in Santa Elena Bay reinforces the fact that this region must remain a marine protected area.
Application
This kind of research not only helps scientists learn more about the location and health of turtles in Costa Rica, but also helps indicate the overall health of the ecosystem. Apart from the environmental importance of a healthy and biodiverse ecosystem, the local tourism economy relies heavily on the health and abundance of these animals. This data will hopefully be used in bolstering conservation efforts from a policy standpoint, as Randall Arauz is a very vocal and prominent conservationist.
Location
The Bat Islands, Costa Rica and Santa Elena Bay, Costa Rica