Junior SeaKeepers Coral Ecology Floating Classroom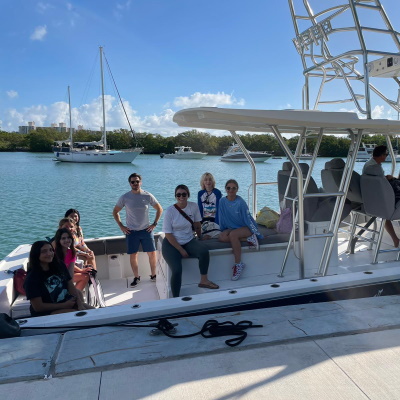 SeaKeepers' Vessel DISCOVERY
Key Biscayne, Florida
March 26, 2023

Overview
On Sunday, March 26th, 2023, The International SeaKeepers Society hosted the first Junior SeaKeepers Program floating classroom opportunity for Spring semester students. This floating classroom gave students the chance to explore reef ecology and fish physiology through a snorkeling trip around Fowey Rocks Lighthouse near Key Biscayne, Florida aboard the SeaKeepers' vessel DISCOVERY.
Before disembarking from Bill Baggs State Park, our education team gave our small subgroup of Spring Junior SeaKeepers an introductory lesson on coral reef ecology and marine organism physiology. This talk introduced concepts of coral reef ecology including food webs, marine chemistry cycling, and abiotic reef factors like currents, and also touched upon fish physiology to understand how basic form can tell us a lot about an animal's life history and how they survive. Once we reached our destination at Fowey Rocks, we jumped in and were lucky enough to see dozens of local species, including houndfish, barracuda, various species of grunts, squid, and many other species of fish and invertebrates like soft corals! After a couple of hours of observing the reef ecosystem, students returned to DISCOVERY to debrief what they saw and brainstorm the different unknown physiological features of some of the species they spotted and what that might mean about how they survive. To conclude the snorkel, we tested the water quality on Fowey Reef using our Earth Echo kits while discussing how water quality in the nearshore open ocean may be different from areas like Little River or Biscayne Bay, and the impacts urban areas can have on the health of waterways. On our return to the marina, our team led a final wrap-up discussion about the day's activities, highlighting all of the different opportunities that we have to learn about our beautiful natural ecosystems right here in our own backyard, and the even more opportunities we have to protect these ecosystems through our everyday actions.
Outing Goal
By attending floating classroom outings, Junior SeaKeepers have the opportunity to take lessons that they are learning from webinars, workshops, and cleanups and apply them directly to the local natural environment. In this floating classroom, specifically, we hope students were able to gather some context about researching and sampling from natural ecosystems for their upcoming research projects, as well as gain some knowledge about the abundance and importance of the many unique species that can be found in Florida's marine systems. As always, we aim for students to leave experiences with us with a better understanding of how their everyday choices impact the world around them, and, therefore, how their conscious actions every day can create a better natural world for their future.
Photo Gallery
This slideshow requires JavaScript.