Junior SeaKeepers Webinar 3: Kathryn Youngblood - Plastics Circularity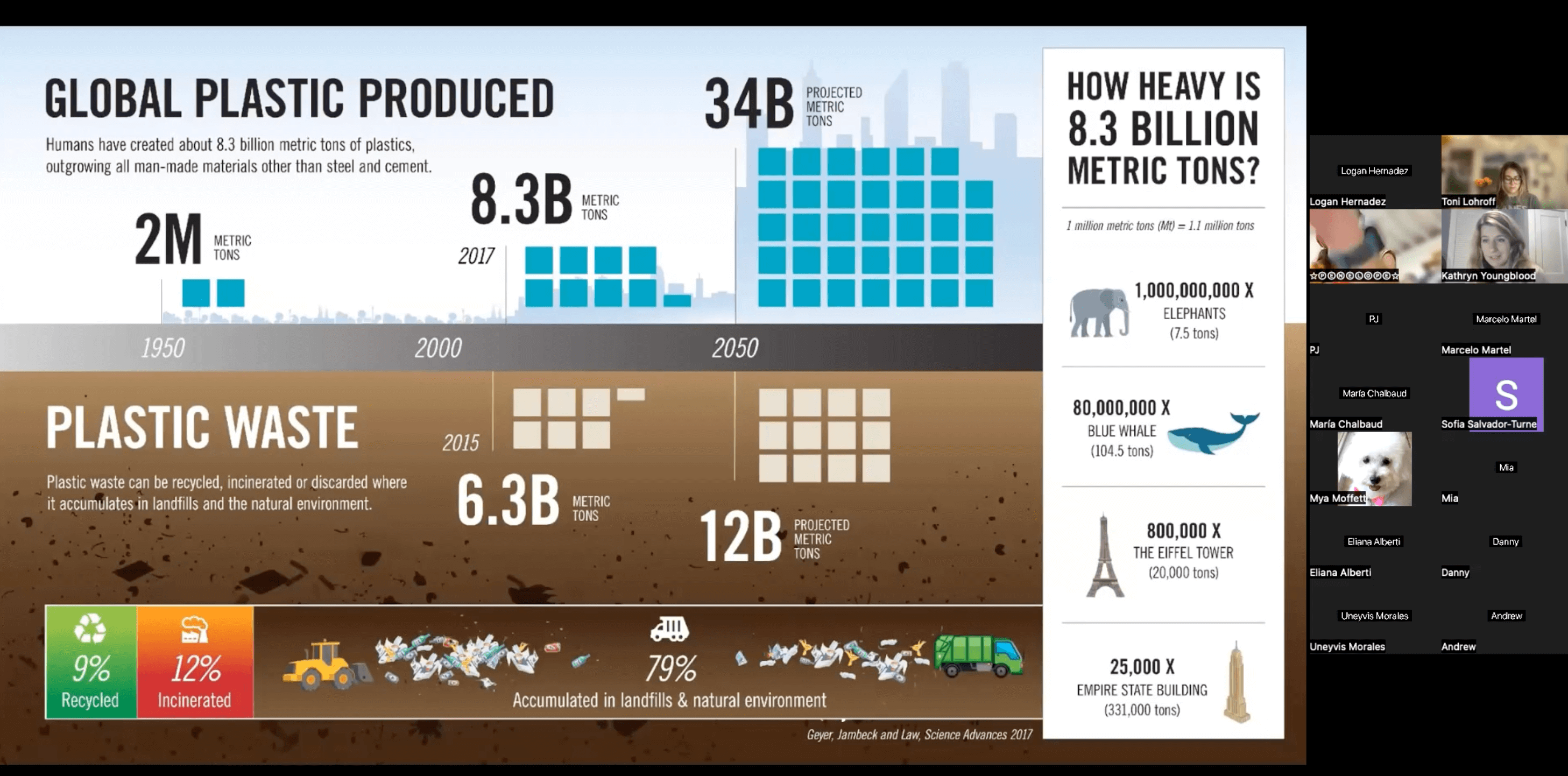 Virtual
November 15, 2023

Overview
On Wednesday, November 15th, 2023, The International SeaKeepers Society hosted the third Junior SeaKeepers Program webinar for 2023-24 cohort students. For this virtual industry talk, we were thrilled to have Kathryn Youngblood, a Research Engineer from the University of Georgia and SeaKeepers partner scientist specializing in marine debris circularity.
Kathryn studies upstream solutions to plastic pollution at the Circularity Informatics Lab, led by Dr. Jenna Jambeck at the University of Georgia College of Engineering. Kathryn is also the Citizen Science Director for Marine Debris Tracker, a citizen science app used to log open data on plastic pollution that has been used to log over 6 million debris items in over 90 countries around the world, including many data points in South Florida thanks to SeaKeepers. Kathryn was a 2019 National Geographic Sea to Source Expedition Team Member, conducting the Circularity Assessment Protocol (CAP) in eleven cities in Bangladesh and India. She has managed projects, conducted fieldwork, and led data analysis for CAP projects in the Seychelles, Jekyll Island, Chile, Mexico, Miami, Minneapolis, and many other locations. Her specialties include geospatial data analysis, engaging community stakeholders through qualitative research, and science communication.
As a part of our webinar, Kathryn outlined her history in the field, including her educational experience and what her position at the University of Georgia entails. Kathryn also went into detail about the partnered citizen science project with Marine Debris Tracker, and how collecting data about plastics and other types of debris in this way can be incredibly beneficial to scientists and policymakers working on plastics legislation. We concluded the webinar with a Q+A with students, where many questions were directed at alternatives for plastics in addition to solutions to our existing plastic debris problems.
Outing Goal
By attending webinars led by SeaKeepers partnered research scientists, our Junior SeaKeepers have the opportunity to learn first-hand about the diversity of work that exists in the marine conservation realm. Additionally, students get direct access to accomplished professionals and are able to see the advancements in the field that are resultant of research happening directly alongside SeaKeepers through our DISCOVERY Yacht program. Kathryn's research is a particularly great inclusion to our webinar series, as it lays a strong educational foundation for students to utilize during the beach cleanups that take place throughout the program.
Photo Gallery
This slideshow requires JavaScript.