Juvenile White Shark Research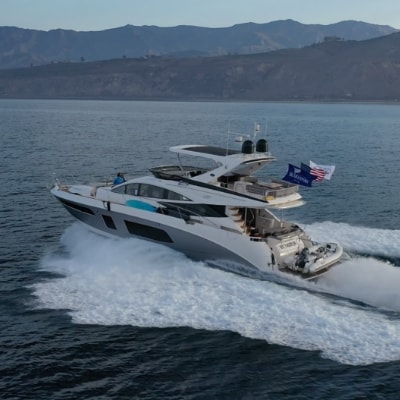 DISCOVERY Yacht Valkyrie
Santa Barbara & Carpinteria, California
August 10-14, 2021

Research Team
Dr. Chris Lowe, Ph.D.; Dr. James Anderson, Ph.D.; Emily Spurgeon, M.S. Candidate; Patrick Rex, M.S. Candidate; Zach Merson, M.S. Candidate; Sergio Madrigal Mora M.S. Candidate; Elizabeth Jahn, M.S. Candidate; Yamilla Samara Chacon, M.S. Candidate; Brian Stirling, M.S.
Purpose of Research
The purpose of observing the juvenile white shark populations off the coast of Catalina, the Northern Channel Islands, Santa Barbara and San Luis Obispo Counties is to learn more about their behavior, migration patterns, and biology.
Duration of Project
2006 - Present
Project Overview
From August 10th-14th, 2021, aboard DISCOVERY Yacht Valkyrie, SeaKeepers facilitated an expedition with the California State University Long Beach Shark Lab to investigate and collect as much data as possible about a population of juvenile and subadult great white sharks that have made a habitat out of a stretch of beach in Carpinteria, California. DISCOVERY Yacht Valkyrie is a 65' Sea Ray which proved to be the perfect platform for housing and transporting all eight researchers to the research site.
For the four days out at sea, research methods included tagging, attaching a biologger to one shark, downloading acoustic receiver data, capturing BRUV footage, deploying an AUV to map the environment, and taking muscle biopsies of prey species. Overall, it was a very productive and successful research expedition.
Additionally, most of the research team are graduate level students at California State University Long Beach, completing a Masters program. This research will be used to complete their theses, thus launching the careers of future marine scientists.
Application
Information on juvenile white sharks behavior and habitat trends is shared with lifeguards, regulatory agencies, and the general public in an effort to improve safety for people, while also helping to improve management strategies for this species.
Expedition Goal
This expedition's goal was understanding the behavior and environmental preferences of juvenile white sharks.
Location
Santa Barbara & Carpinteria, California