Las Olas Beach Cleanup with Meridian and MOCEAN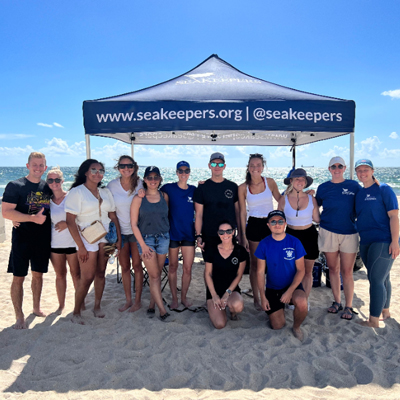 Fort Lauderdale, Florida
July 30, 2022

Overview
On Saturday, July 30, 2022, The International SeaKeepers Society co-hosted a beach cleanup on Las Olas Beach with partners Meridian and MOCEAN, both digital platforms that allow members of the yachting community to connect. MOCEAN is a private community for yachting professionals looking to discover new opportunities and adventures, seek and share advice, connect, and stay informed on what's happening in the yachting industry. Meridian is a global meeting room for the maritime industry employers and crew that utilizes innovative software to help recruit and interview crew and find prospective yacht crew hiring opportunities.
Our 48 volunteers cleared 49 pounds of trash from the beach, with some participants venturing to the other side of the street and intercepting trash on the sidewalks and in the grass near the beach's entrance. Over 650 cigarette butts, 130 cans, and 110 utensils were found, along with electronic cigarettes, articles of clothing, jewelry, and a ½ gallon of milk, among some odder items. However, trash wasn't the only thing on the beach. From May to October, Florida's eastern coast is a hotspot for sea turtle nesting, and being in the middle of hatching season, nests were marked out all over the beach. Leaving our shores clean during this time of the year is of utmost importance as the baby turtle hatchlings have a hard time getting to the ocean over sand dunes and piles of seaweed, let alone plastic bags and discarded food packaging. The other environmental threats they face on their way down the beach to the water like light pollution and predators.
Thank you to all our volunteers who ensure a safe environment for baby turtles, a pristine beach, and healthier ocean and world. We are thankful to our partners MOCEAN and Meridian and look forward to future collaborations.
Outing Goal
CleanSwell is a trash collection mobile app developed by Ocean Conservancy and utilized by volunteers at each of our cleanups that allows them to record the types and quantities of trash found during their clean. Our mission at SeaKeepers begins with the foundation of research followed by the education of communities that empower them to protect and restore the surrounding coastal and marine environments. Data from the CleanSwell app is included in a global database that scientists everywhere can access and provides a means of identifying pollution trends that are location specific. Using CleanSwell at our cleanups involves community members in the Ocean Conservancy's pursuit of evidence based solutions for a healthy ocean and the wildlife and people that depend on it, as well as provides the data necessary for effective local legislation to be written accomplishing the SeaKeepers' goal of protection and eventual restoration. This cleanup, 46% of our volunteers used the CleanSwell app or our paper data sheets, and 84% of the trash collected is accounted for in Ocean Conservancy's database.
Partner Sites
Volunteer Cleanup, MOCEAN, Meridian

Photo Gallery
This slideshow requires JavaScript.