Monthly Beach Cleanup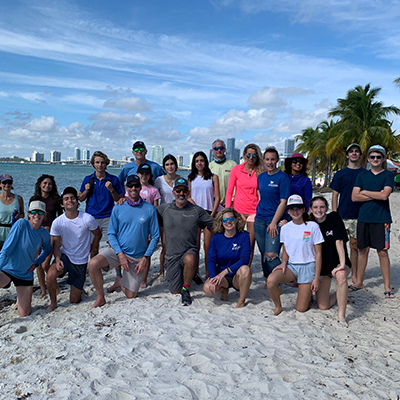 Monthly Beach Cleanup
Hobie Beach, Virginia Key
December 11, 2021
On Saturday, December 11th, SeaKeepers launched 2021's last weekend of cleanups for volunteers and we were so happy to share this cleanup with our friends from Blue Scholars Initiative and Fill-A-Bag. With their help, 50 participants were able to collect 112 pounds of trash and had a blast while doing it. We love working with like-minded organizations and both Blue Scholars Initiative and Fill-A-Bag are passionate about the public's education surrounding healthy oceans and the harms of ocean pollution. Blue Scholars Initiative works year-round in public schools to bring students exposure to the coastal and pelagic environments they may not otherwise have access to, and Fill-A-Bag is a program that sets up bucket stations at beaches around the world so that beachgoers can turn an ordinary beach visit into a meaningful cleanup. Education and action are two things SeaKeepers is very passionate about, and we love being able to share our mission with both of these organizations.
As usual, volunteers also helped collected data about the trash being removed from this site using the app Clean Swell. In addition, this cleanup was also the start of the students in our Junior SeaKeepers Program's first research project - studying the quantity and distribution of microplastics! Microplastics are defined as any plastic material that measures under 5 millimeters. While volunteers cleaned, the Jr. SeaKeepers got their hands on the scientific method when they examined different transects of Hobie Beach documenting the types of microplastics they'd found. We are looking forward to seeing where this research takes them in the new year!
As always, a huge thank you to all our volunteers who decided to spend their beautiful Saturday morning in service to the Earth. We appreciate your efforts and we know the ocean does too. We'll see you soon for more cleanups, but until then stay safe, stay healthy, and enjoy the holidays!
Partner Sites
Volunteer Cleanup
Blue Scholars Initiative
Fill-A-Bag
Photo Gallery
This slideshow requires JavaScript.