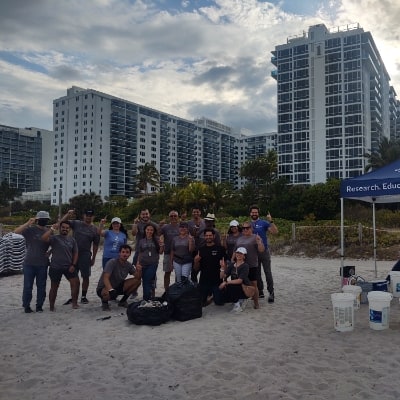 Miami, Florida
April 29, 2022
Overview
On Friday, April 29, 2022, The International SeaKeepers Society hosted a cleanup on 24th Street Beach for 1 Hotel South Beach to offer their employees the opportunity to clean up the hotel's beachfront. 1 Hotel's operations align with SeaKeepers' journey towards cleaner oceans by participating in recycling, composting, and offering their guests sustainable options, among other ways they are actively pursuing their mission of fighting the climate crisis and facilitating guests' connections to nature. From 4:30 PM to 6:30 PM, volunteers collected 53 pounds of trash from the beach and sand dunes, consisting mainly of bottle caps, bottles, cans, and other food containers. Thank you to the 33 volunteers who participated in this beach cleanup.
Outing Goal
CleanSwell is a trash collection mobile app developed by Ocean Conservancy and utilized by volunteers at each SeaKeepers cleanup. It allows participants to record the types and quantities of trash found during the event. Data from the CleanSwell app is included in a global database that scientists everywhere can access and provides a means of identifying pollution trends that are location specific.
Our mission at SeaKeepers begins with the foundation of research followed by the education of communities that empower them to protect and restore the surrounding coastal and marine environments. Using CleanSwell at our cleanups involves community members in the Ocean Conservancy's pursuit of evidence based solutions for a healthy ocean and the wildlife and people that depend on it, as well as provides the data necessary for effective local legislation to be written accomplishing the SeaKeepers' goal of protection and eventual restoration.
Partner Sites
Photo Gallery
This slideshow requires JavaScript.