Monthly Beach Cleanup & Pumpkin Painting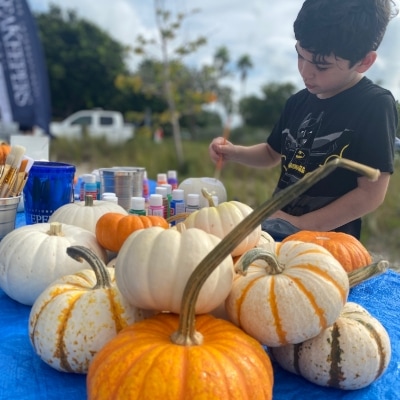 Hobie Beach
October 24, 2021
On Sunday, October 24th, 2021, SeaKeepers spent a beautiful morning welcoming autumn at Hobie Beach with a simultaneous beach cleanup and pumpkin painting in collaboration with our friends Art With Me! We loved collaborating with this organization, whose mission is to remind everyone that we are both art and artist, and that the greatest masterpiece of all time is a life lived to the fullest.
All 59 participants were able to be reminded of this on Sunday as we shared in a creative experience alongside nature. From scary Halloween-themed to minimalist designs, our pumpkins saw a wide range of styles, colors and patterns painted by volunteers of all ages. In addition to painting all the pumpkins, our volunteers cleared 134 pounds of trash off of Hobie beach! Our creatives sure do know how to clean! Runcie Tatnall, a frequent beach cleaner and the artist of our painting raffle a few cleanups ago, was also in attendance and spent some time painting with us. Thank you, Runcie! We had a wonderful time with all of you, special thanks to everyone who attended and our collaborators at Art with Me for making this such a special cleanup. Another big thank you to Paul Sebastian for returning to take more spectacular pictures!
We loved working with you all and hope that this is just the first of many pumpkin paintings as we strive to make our oceans a cleaner place.
Partner Sites
Photo Gallery
This slideshow requires JavaScript.