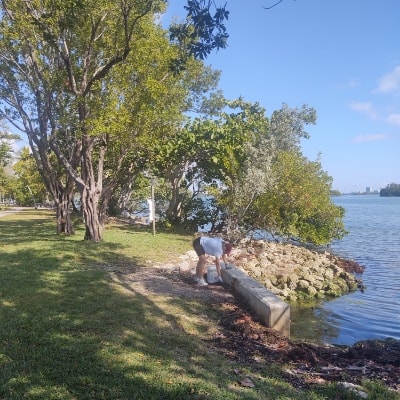 Morningside Park
February 12, 2022
Overview
On Saturday, February 12th, we were back at Morningside Park for another cleanup and yoga class! It was a gorgeous day filled with students ready to help their environment and contribute to Citizen Science! Forty-four volunteers cleaned 88 pounds of trash, and a quarter of our participants used Ocean Conservancy's CleanSwell app to track the types of trash they were picking up, and recorded over 200 bottle caps and 150 straws. This data is so important for legislative advances in preventing plastic from getting into our coastal environments and is an important part of advocacy. Thanks to all our volunteers who contributed to this database.
Once again, we partnered with another non-profit, Awareness Into Action, who came with amazing T-shirts for sale to support their mission. Sofia led a wonderful, restorative yoga class many of our volunteers enjoyed before cleaning. They will be with us every month so volunteers can have a chance to return to a yoga class or snag a T-shirt.
A big thanks to all our volunteers who make these cleanups possible and impactful. We are looking forward to seeing you at Hobie Beach next week!
Partner Sites
Volunteer Cleanup
Awareness Into Action
Photo Gallery
This slideshow requires JavaScript.