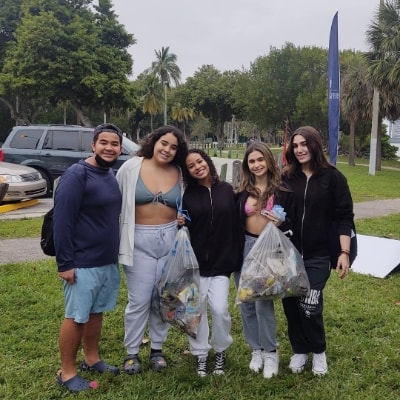 Morningside Park
January 23, 2022
Overview
On Sunday, January 23rd, we made our way back to Morningside Park for it's post-New Year celebrations cleanup, and boy did we clean! We had 70 volunteers come out this chilly Sunday morning to remove 135 pounds of trash from this beloved spot. We found lots of party items like glitter, foam coolers, and balloons - not only did our volunteers clean up the celebratory mess but now are leaving knowing how to party in ways that consider the environment.
All of the students in attendance used Ocean Conservancy's CleanSwell app to track the types and quantities of trash they collected, and in this way contributed to a global database scientists everywhere use to track pollution trends. Other volunteers loved this citizen science contribution and jumped into tracking their trash with the app as well.
Once again, we were joined by one of our favorite collaborators, Awareness Into Action! Wanda led a wonderful yoga class that allowed volunteers to trickle into relaxing and restorative yoga whether they preferred to clean first or jump right in. We are so grateful to have this experience available for volunteers every time we clean Morningside. Thank you so much for partnering with us, we love sharing this coastal space with you.
This cleanup was the perfect end to our month and a strong start to our year. We are looking forward to seeing our volunteers and collaborators throughout the rest of 2022!
Partner Sites
Volunteer Cleanup
Awareness Into Action
Morningside Watersports
Photo Gallery
This slideshow requires JavaScript.