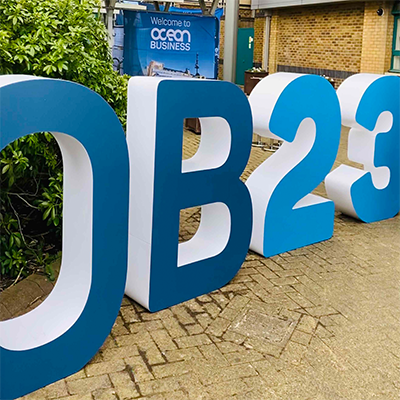 Southampton, UK
April 18, 2023

Overview
On 18th April 2023, Gill Rodrigues, Director of International Relations at The International SeaKeepers Society, participated in Ocean Business 2023, a three-day international exhibition and conference dedicated to technology and science in the marine sector. The event took place at the National Oceanography Centre in Southampton, UK, and provided a wonderful opportunity to connect with some of the industry's brightest minds and share ideas to help shape the future of ocean technology.
Gill spent the day exploring cutting-edge surveying innovation and the latest marine autonomous systems. While at the conference, she had the chance to meet with program partners Seabed 2030, who were exhibiting at the event. She also had valuable interactions with Beazley and Sofar Ocean, both of whom were present at the show.
These meetings enabled discussions on how SeaKeepers Discovery Yachts can support the deployment of Sofar Spotter buoys and allowed for sharing details about the upcoming UK launch of the Discovery Yachts on 13th May in Poole.
Ocean Business 2023 served as an excellent platform for Gill Rodrigues and other marine industry professionals to network, exchange ideas, and address the challenges faced in the blue economy.
Photo Gallery
This slideshow requires JavaScript.