Ocean Rescue Alliance International Reef Monitoring and Coral Restoration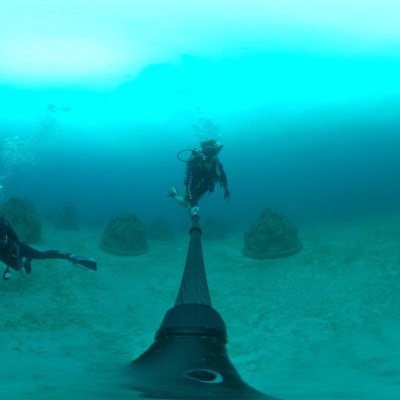 SeaKeepers Vessel DISCOVERY
Hollywood, Florida
July 27, 2023
Project Overview
The Ocean Rescue Alliance International (ORAI) is a marine conservation and restoration nonprofit organization that implements innovative techniques to restore marine environments. ORAI use artificial structure to enhance marine environments, build marine habitat, conduct restoration, protect coast lines, and connect communities through art. Each of its artificial reef sites are designated research sites to explore artificial reef designs, fish and benthic recruitment, coral restoration techniques, and coral nursery facilitation. They have four artificial reef sites in the water and over eighteen coral restoration sites on natural reefs.
Duration of Project
This project has been ongoing since 2019
Expedition Summary
On Thursday, July 27, 2023, The International SeaKeepers Society facilitated a dive outing for Ocean Rescue Alliance International (ORAI) to monitor a site of several artificial reef structures which were placed there by ORAI a month prior. The goal was to monitor what kind of benthic and fish recruitment was happening at the site.
ORAI consistently monitor their sites and the different designs and types of structures, to see which designs and structures are most efficient in fish recruitment and promoting biodiversity.
A month after deployment of these structures, the team observed that immense biodiversity was actually present, with the presence of some large angel fish, some small juvenile fish, and a moray eel, as well as some algae recruitment.
Application
With the severe coral bleaching events and die-offs we are seeing with increasingly warm ocean temperatures, these structures, which will also be home to a number of out-planted coral species, will become more and more important to make sure that the marine life that calls South Florida its home, can continue to thrive in a habitat that is conducive to keeping our ecosystems healthy and vibrant.
Additionally, there is an aspect of attracting snorkelers and divers to near shore marine habitats. This is done with the intention of bringing more and more awareness of just how precious and important our Florida reefs can be in the future if we take steps to protect and restore them.
Location
Hollywood, Florida (with other sites in other areas of Southeast Florida and the Florida Keys)