Park Cleanup in Collaboration with Art With Me Miami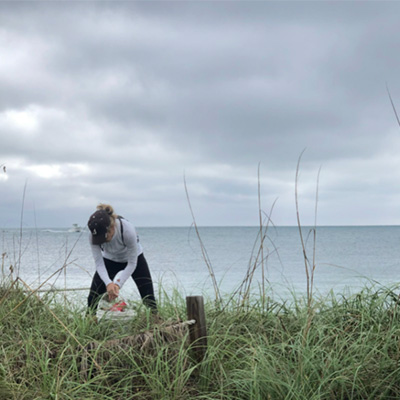 Historic Virginia Key Beach Park, Virginia Key
November 6, 2021
On Saturday November 6th, 2021, we had the privilege of partnering once again with Art With Me Miami for a cleanup of Historic Virginia Key Beach as part of Baynanza. Despite wind and rain, our volunteers showed up for yoga led by Tania Castellanos, stayed for the cleanup, and ended up being rewarded with some sun.
Eighty volunteers attended to clear nearly 370 pounds of trash off Virginia Key's white sands - 10 of those pounds composed of nothing but bottle caps. Many of these caps are going to be used at our SeaKeepers Arts and Crafts booth at the Art With Me Miami Festival later this month.
Not only are the bottle caps being reused, but so are all the plastic bottles we collected as well. Art With Me is going to use our trash to create a large floating mandala that will be displayed in Miami Beach's Art Basel exhibits in December. Thank you to all our volunteers and collaborators that make all these wonderful things possible, and we are so excited to see you all again at our next cleanup on the 21st and at the Art With Me Miami festival later this month!
Want to join us at Art With Me? From November 26th-28th, you can come see us to take home a piece of the cleanup from 12-6 every day of the festival, and afterwards experience art in every dimension with the spectacular art installments, music and more that Art With Me has for the whole family. If you buy tickets using this link: https://carewithmefoundation.com/?ref=10 a portion of the proceeds will help to fund SeaKeepers' mission for a cleaner ocean!
Purchase Tickets Here: https://carewithmefoundation.com/?ref=10
Partner Sites
Art With Me Miami
Miami Waterkeeper
Photo Gallery
This slideshow requires JavaScript.