Park Cleanup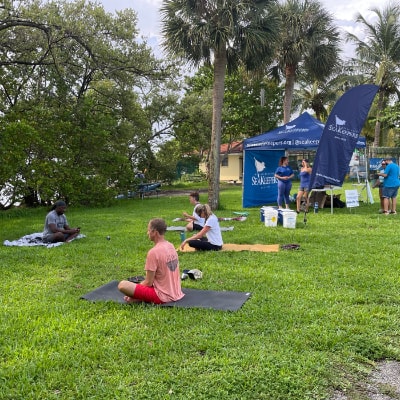 Morningside Park
July 10, 2021
On Saturday, July 10th, we were back at Morningside Park to clean up, and we were so excited to offer a free yoga class in partnership with Awareness into Action during our cleanup at our shared venue. Originally, the yoga session was planned prior to the cleanup but due to weather plans were changed. Instead of separating the two we were able to have both activities at the same time which everyone enjoyed, and this is now how we plan on collaborating going forward.
While understandably the rain deterred some of our volunteers, our outstanding group of 17 still managed to collect 221 pounds of trash making this possibly our most productive cleanup yet! Volunteers cleaned the rocks and mangroves, and with paddlers out at picnic island, water was covered too! This post-4th of July cleanup yielded items like couch cushions and a glass Clorox bottle from the 1930's!
This cleanup was definitely one for the books, and we want to specially thank Blue Scholars Initiative staff for participating, as well as, creators from the BAY STORE for participating in our cleanup! (If you decide to swing by our friends' chic shop in Miami Design District, you may just find a piece of art constructed out of a one-of-a-kind find from our cleanup that you can feel good about decorating your home with!) Of course, this cleanup collab would not have been possible without Awareness into Action, and we are looking forward to the yoga-cleanups with you all in the near future.
As always, a HUGE thank you to all of our volunteers - we appreciate the difference our volunteers are making for our ocean, our world, and our community, and are very excited about joining forces. Here at SeaKeepers, our love for the ocean makes facilitating eco-consciousness and awareness easy, but you all incredibly do the work every cleanup. Your Saturday morning sacrifices do not go unnoticed, and we look forward to seeing you all at our next cleanup.
Partner Sites
Volunteer Cleanup
Awareness into Action
Photo Gallery
This slideshow requires JavaScript.