Poole Harbour Commissioners Presentation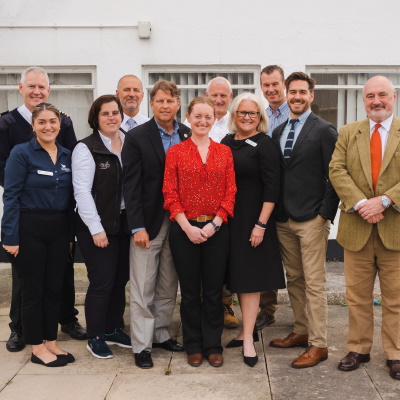 Poole, Dorset
May 12, 2023

Overview
On Friday, May 12, 2023, The International SeaKeepers Society joined Poole Harbour Commissioners (PHC) for an informal lunch presentation. Chief Executive Jim Stewart presented the Poole Harbour Commissioner's Master Plan and shared the strategy and proposals for the future development of the Port over the next 20 years. Jim was joined by Captain Brian Murphy who will be taking over as CEO of PHC from Jim Stewart on 1st July 2023 and Chairman Lee Hardy OBE among other Commissioner representatives.
SeaKeepers' Chief Programs Officer, Tony Gilbert, and Director of International Partnerships & Lead of UK Office, Gill Rodrigues, shared our mission and reach through SeaKeepers global DISCOVERY Yacht Programme. We discussed our plan to support marine science research, education and conservation in the UK with specific focus on our support for local initiatives. SeaKeepers looks forward to working with PHC to grown our DISCOVERY Yacht Programme and to support their vision for a safe and sustainable Harbour.
Outing Goal
Situated within the 10,000 acres of Poole Harbour, the Port of Poole is managed by the Poole Harbour Commissioners. Poole Harbour is one of the outstanding features of the English Coastline, the harbour has major environmental significance and has been designated as a Wetlands Site of International Importance under the Ramsar convention, a site of Special Scientific Interest and a Special Protection Area. PHC plays a leading role in the environmental stewardship of the Harbour. It was fascinating to understand more about their future plans for the region.
Poole Harbour Commissioners

Photo Gallery
This slideshow requires JavaScript.