Sampling for Giant Viruses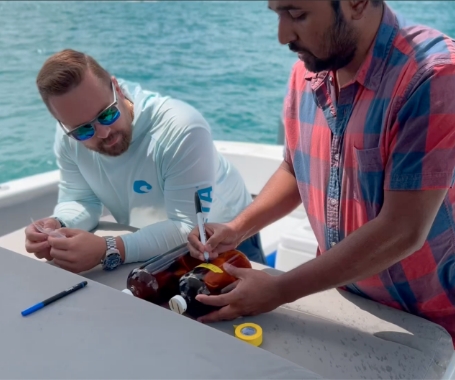 SeaKeeper Vessel, DISCOVERY
Miami, Florida
April 9, 2022
Research Team
Dr. Mohammad Moniruzzaman, Ph.D. and Brad Weiler, Ph.D. Candidate
Purpose of Research
The purpose of the study is to see if viruses, specifically giant viruses and other pathogens are present in Biscayne Bay and further offshore coastal waters off of Miami Beach.
Duration of Project
2022 - Present
Program Overview
On April 9th, 2022, The International SeaKeepers Society (SeaKeepers) assisted Dr. Mohammad Moniruzzaman (Dr. Monir) of the University of Miami's Rosenstiel School of Marine and Atmospheric Science aboard SeaKeepers' Vessel DISCOVERY in taking baseline water samples of Miami's Biscayne Bay in the search for, "giant viruses," viruses with very large genomes.
Samples were collected from Biscayne Bay, as well as, offshore just east of Miami Beach. Dr. Monir will use the information he collects on these marine microbial communities to designate additional locations for continued sampling and further research.
Application
A broader application of this research might involve better detection of viruses in marine and aquatic environments, and a better understanding of the transmission of pathogens from water to humans so that the public can be better protected from disease.
Additionally, extraction of DNA and analysis of data from these samples will be part of the training of MPS (Master of Professional Science) and undergraduate students in Dr. Monir's lab.
Expedition Goal
The goal of this expedition is to establish sampling sites for long term testing and observation, with the hopes of being able to better describe and analyze human interaction with microbial communities in coastal environments.
Location
Biscayne Bay, Miami, Florida