Scientific Shark Survey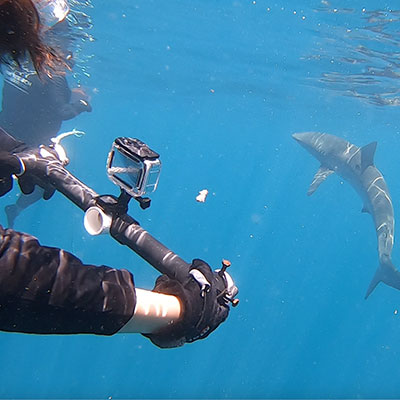 DISCOVERY Yachts Dione Sun & Surface Interval
Jupiter, Florida
August 12, 2023
Research Team
Hannah Medd, MSc.
Deborah (Santos de Azevedo) Menna, BSc.
Jasmin Graham, M.S.
Project Overview
Shark populations are subjected to increasing pressures from habitat degradation, pollution, and unsustainable fishing pressures and long-term monitoring can identify negative impacts and help develop ways to mitigate them. This knowledge of how these species utilize Florida's fragile coastal ecosystems is critical to ensuring their sustainable management and conservation.
Duration of Project
This outing took place on August 15th, 2023, but is part of an ongoing effort that the American Shark Conservancy began in 2016.
Expedition Summary
On Saturday, August 12th, 2023, The International SeaKeepers Society assisted the American Shark Conservancy and Minorities in Shark Sciences in conducting a shark survey using non-invasive, in-water biological and behavioral data collection techniques. They used a standardized methodology for their Underwater Visual Survey (UVS) and captured images using their underwater camera (for positive species and sex determination) with paired lasers (to determine precise length measurements). Two of our DISCOVERY Yachts, Dione Sun, Captained by Matt and Kristin Braistad, and Surface Interval, Captained by Rick Thomas of JMS Yachting, traveled up from Fort Lauderdale, Florida to West Palm Beach to pick up the research team and their equipment.
For this expedition, researchers attracted sharks 3 nautical miles off the coast of Jupiter, Florida using bait fish contained in a crate. When the sharks arrived onsite, observations and measurements were recorded using their underwater camera paired with lasers. Data was also gathered on water quality, visibility, sea state, latitude and longitude, current speed and direction, temperature of air and water, and dissolved oxygen in water. Recorded in this outing's survey were three male silky sharks from the second site of the day. One of the sharks had a hook with fishing line attached to it that posed a risk of entanglement so researchers cut the line off and removed it from the water.
Application
The results and information collected will be used to inform management decisions and translated for the general public to increase awareness and understanding of these vulnerable animals.
Location
Jupiter, Florida
Photo Gallery
This slideshow requires JavaScript.