SeaKeeper of Singapore Award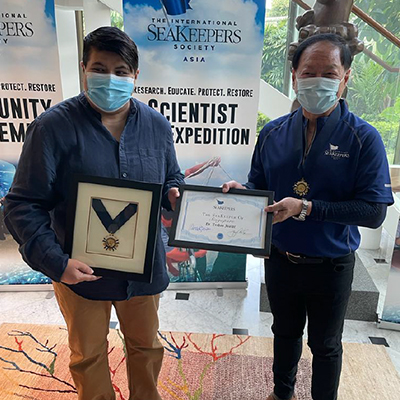 Singapore
September 30, 2021
With the SeaKeeper of Singapore Award, The International SeaKeepers Society, Asia honours Dr. Zeehan Jaafar for her outstanding contribution and achievements in marine science and conservation.
Dr. Zeehan Jaafar, is recognized for her efforts covering science and conservation through research, education, and environmental protection. A marine biologist and lecturer with the Department of Biological Sciences at National University of Singapore, she is well known for her research interests on the evolution, ecology, and behaviour of fishes.
Dr. Jaafar has also been fighting for the protection of the reefs at Southern Islands, Singapore. One of her primary aims was to document and build a DNA library of the fishes of Singapore. She was the co-lead in curating an online 'fish library' of 500 fish, 5 previously unidentified, with the help of scientists from Temasek Life Sciences Laboratory.
SeaKeepers of the World Award and Award Objectives:
In June 2015 SeaKeepers launched the SeaKeepers of the World Programme to identify individuals who demonstrate a commitment to ocean research and conservation in their local communities. SeaKeepers Board of Directors recognizes individuals whose environmental goals and scientific and conservation efforts align with the SeaKeepers mission to Research. Educate. Protect and Restore.