SeaKeepers Education and Research Programme Partner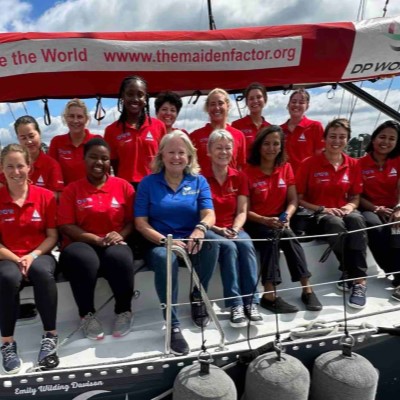 Southampton, United Kingdom
August 9, 2023

Overview
On Wednesday August 9th, 2023, The International SeaKeepers Society met with Tracy Edwards and The Maiden Factor Foundation in support of SeaKeepers mission of ocean research, conservation and education. SeaKeepers' Director International Relations, Gill Rodrigues, met Maiden at her base in Hamble Marina. This remarkable crew strives to represents every girl and their dreams for the future. They are part of Tracy's mission to improve the rights of girls to an education around the world and to identify opportunities for every girl in STEM subjects.
Maiden is supporting SeaKeepers' Seabed 2030 project throughout their journey and we are currently working together on a global on line educational outreach programme with SeaKeepers' Education Manager, Toni Lohroff, M.S.
Gill joined the crew in Hamble as they prepared for the Ocean Global Race and met the young female skipper and crew of up and coming sailors from around the world. These women hope to inspire another generation of women and girls to follow their dreams. Partnerships such as these demonstrate how the ocean connects us all and how much we can do together.
Outing Goal
The goal of this meeting was to meet the skipper and new crew and discuss SeaKeepers Seabed 2030 programme and future partnerships.
Photo Gallery
This slideshow requires JavaScript.