The Crossing for Cystic Fibrosis 2023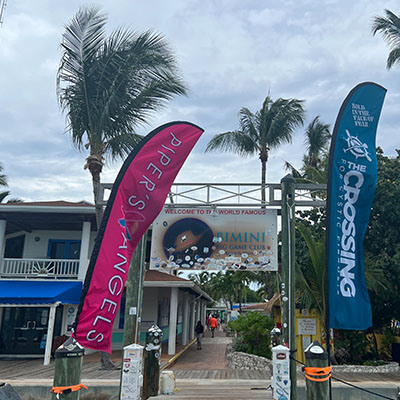 Bimini, Bahamas to Lake Worth, Florida
June 21-25, 2023

Overview
From June 21-25th, 2023, The International SeaKeepers Society participated once again in the Crossing For Cystic Fibrosis from Bimini, Bahamas to Lake Worth, Florida. The Crossing is an annual event organized and executed by Piper's Angels, a non-profit whose mission is to provide the most socially innovative solutions to the cystic fibrosis community.
In addition to having five paddlers as part of Team SeaKeepers, we also had long team friend and DISCOVERY Yacht owner Rick Thomas participate as the support vessel for Team SeaKeepers. SeaKeepers' own boat, motor vessel DISCOVERY, acted as the transportation for Piper's Angels core team to and from Bimini.
Last but not least, being in Bimini for a few days leading up to the crossing, we had the chance to address all the captains and crew of the 37 support vessels that helped get the 182 paddlers across the Gulf Stream safely. SeaKeepers was able to recruit vessels to our DISCOVERY Yacht Program.
Outing Goal
Network and recruit more vessels to SeaKeepers' DISCOVERY Yacht Program, as well as hand out our new Sustainability Kits. We also just aim to help out another non-profit in the execution of their annual event.