United Nations Ocean Conference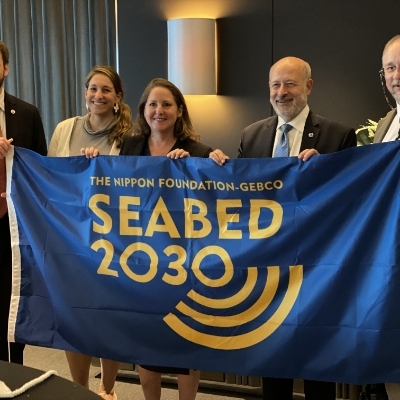 Citizen Science
Lisbon, Portugal
June 29, 2022
Overview
On June 29th, 2022, The International SeaKeepers Society (SeaKeepers) attended the Seabed 2030 event at the United Nations (UN) Ocean Conference in Lisbon, Portugal. As a program partner for this international effort, SeaKeepers was proud to learn that the latest GEBCO Grid figure now stands at 23.4%, reflecting an increase of 10.1 million square kilometers of new bathymetric data from last year's figure. This increase is equivalent to an area around the size of Europe and slightly larger than the Sahara - Earth's largest hot desert.
Mr. Mitsuyuki Unno, Executive Director of The Nippon Foundation spoke to the attendees:
"Despite covering over 70% of the planet, our knowledge of what lies beneath the blue surface has been severely limited. Without this crucial information we cannot possibly set about having a sustainable future - a complete map of the ocean floor is the missing tool that will enable us to tackle some of the most pressing environmental challenges of our time, including climate change and marine pollution. It will enable us to safeguard the planet's future."
Mr. Ariel Troisi, Chair of IOC-UNESCO said:
"The Ocean Decade is about closing the persistent knowledge gaps we face in the ocean community once and for all, because we cannot manage what we cannot measure. Mapping the seafloor is at the basis, at the root, of this effort. The sine qua non for creating fail-safe, inclusive, and protective mechanisms for sustainable cohabitation between society and nature within the deep ocean – our last frontier."
During the evening, Seabed 2030 announced a new partnership with the United States National Oceanic and Atmospheric Administration (NOAA). Signed by Seabed 2030 Head of Partnerships Mr. Stephen Hall and Dr. Rick Spinrad on behalf of NOAA.
"With the development of new tools and technologies for mapping and measuring its floor, we have a better capacity to understand its physical structure, and the life it supports, and therefore better understand our full planet," said Dr Spinrad. "That knowledge can help us make better, more sustainable decisions — locally, nationally, and globally."
Seabed 2030 is an exciting new program for The International SeaKeepers Society and we look forward to welcoming more of our DISCOVERY Yacht members to support this global effort. Together we can greatly expand our shared understanding of the world's ocean.
Outing Goal
Seabed 2030 is a flagship program of The Ocean Decade, a major initiative by the United Nations (UN) to mobilize governments, the private sector, scientists, and civil society to co-design and co-deliver transformative knowledge-led actions to reverse the decline in the health of the ocean and make a change in the sustainable management of the marine environment. IOC-UNESCO is the UN body tasked with leading the implementation of the Ocean Decade.
This slideshow requires JavaScript.