Watersport Association Floating Classroom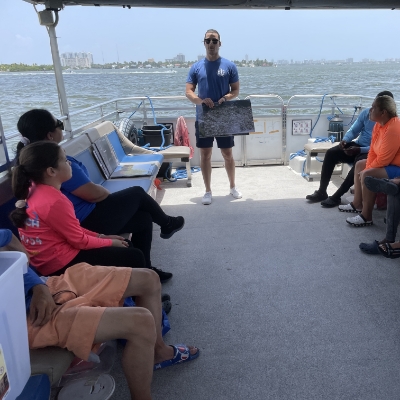 DISCOVERY Vessel River Queen
Miami, Florida
June 15, 2022
Overview
On June 15th 2022, SeaKeepers joined the Biscayne Bay Watersports Association aboard DISCOVERY Vessel River Queen in collaboration with Miami Waterkeeper to learn more about the threats and conservation of Biscayne Bay. The group comprised of boat owners, captains and crew members who work on Biscayne Bay in the tourism industry, and discussed not only some of the history and environmental concerns of Biscayne Bay, but also how they can work as an industry to push for conservation.
While cruising the Bay, the group discussed good boating practices, how to practice sustainability in our own lives, and ways to get involved with larger conservation efforts. The vessel, River Queen, is owned by a company in the Association, BJM Rentals, who has hosted many floating classrooms throughout 2022.
Outing Goal
The goal of this outing was to provide attendees with more information about Biscayne Bay's health, so that they might spread the word within their boating circles and with clients who visit the Bay.
Partner Sites
Miami Waterkeeper
Watersports Association
Photo Gallery
This slideshow requires JavaScript.