Island Cleanup and Mermaid Snorkel Party
Island Cleanup And Mermaid Snorkel Party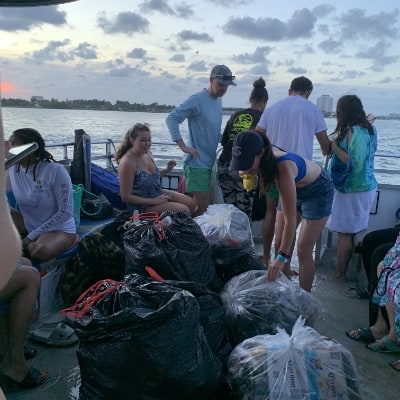 Miami Florida
July 2, 2022
Overview
On July 2nd, 2022, The International SeaKeepers Society co-hosted an island cleanup with Debris Free Oceans aboard Watersports Association's DISCOVERY Vessel River Queen. This sunset cleanup was conducted on Morningside's Picnic Island in the northern part of Biscayne Bay and a total of 183 pounds was collected from the beaches of the island and the island's inner foliage and shrubbery. Notable items included bottles and bottle caps, takeout containers and food wrappers.
The cleanup was accompanied by mermaids from AfroMermaids, an organization that aims to represent the black community not only in the mermaid world but the rest of the watersports sect as well. They advocate for swim safety and ocean preservation through entertainment, educating children, and hosting monthly beach cleanups in an effort to build a community of diverse water lovers.
The Watersports Association provided watersport equipment such as paddleboards and water trampolines for cleanup volunteers to interact with the mermaids in the water and enjoy the Bay, as well as a keg that allowed volunteers to enjoy themselves without adding to the pollution problem. Everyone brought their own reusable cups and demonstrated that a good time can be had on the Picnic Islands without trashing it.
Outting Goal
CleanSwell is a trash collection mobile app developed by Ocean Conservancy and utilized by volunteers at each of our cleanups that allows them to record the types and quantities of trash found during their clean. Our mission at SeaKeepers begins with the foundation of research followed by the education of communities that empower them to protect and restore the surrounding coastal and marine environments. Data from the CleanSwell app is included in a global database that scientists everywhere can access and provides a means of identifying pollution trends that are location specific. Using CleanSwell at our cleanups involves community members in the Ocean Conservancy's pursuit of evidence based solutions for a healthy ocean and the wildlife and people that depend on it, as well as provides the data necessary for effective local legislation to be written accomplishing the SeaKeepers' goal of protection and eventual restoration.
Partner Sites
Watersports Association
Photo Gallery
This slideshow requires JavaScript.