Oceanology International Conference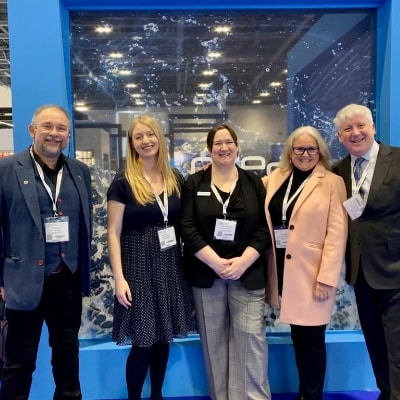 London, England
March 15, 2022
Overview
On Tuesday, March 15, 2022, SeaKeepers' lead on International Partnerships, Gill Rodrigues, attended the first day of the Oceanology International Conference in London, England. The three-day conference welcomes over 8,000 attendees and enables more than 500 exhibitors to showcase the latest ocean technologies and developments on the event floor and on-water demos and vessels.
Gill had the opportunity to meet with our new program partners from The Nippon Foundation-GEBCO, who recently joined us in launching our new global Citizen Science initiative, the Seabed 2030 Project. Gill then attended the panel session "The New Blue Economy," which explores how emerging capabilities for acquiring ocean data and delivering actionable ocean information can enable a growing Blue Economy that balances delivering the vast economic potential of the ocean with protecting ocean health and ensuring social equity.
Gill also attended the panel that had presenter Victor Vescovo, our 2021 SeaKeeper of the Year, and Triton Submarines' President Patrick Lahey, accept the award winners of the Captain Don Walsh Award for Ocean Exploration as they recount their experiences with the design, construction, and operation of the submersible Limiting Factor and the DSSV Pressure Drop.
Oceanology International is the leading forum where industry, academia, and government share knowledge and connect with the world's marine science and ocean technology communities.
Partner Sites
Oceanology International
Seabed 2030
Caladan Oceanic
Triton Submarines
Photo Gallery
This slideshow requires JavaScript.