November 5, 2022,
After a two-year break, The International SeaKeepers Society held its Asia Awards Dinner at One°15 Marina.
Hosted by Dinner Chairs Julian and Sandra Chang, the celebrations followed the inaugural 2-day session of The Ocean Collective Summit and was attended by 260 guests.
The event was graced by special guest's H.E. Mr Ahmed Thasmeen Ali High Commissioner for the Republic of Maldives and well-known Aquanaut, Oceanographic Explorer, Environmental Advocate and Founder of the Fabien Cousteau Ocean Learning Center and Proteus Ocean Group, Fabien Cousteau.
One of the evening's highlights was the announcement of the year's award winners, with both awardees hailing from neighboring Malaysia. Rani Bin Awang was recognized as SeaKeeper of Malaysia whilst the REEFS Research Group of the Universiti Malaysia Terengganu (UMT) were recognized with The International SeaKeepers Society Asia Achievement Award 2022. These awards recognize the award winners' responsibility towards the health of the ocean through research, education, protection and/or restoration.
SeaKeeper of Malaysia, Rani or otherwise known as Turtleman, has been involved protecting the sea turtles since he was a young boatman around Kapas Island in Terengganu, Malaysia. Sea Turtles in Terengganu are now either endangered or critically endangered and for the past 20 years, Rani has been recuing the turtle eggs on Kapas - protecting them against illegal poachers and collecting them for hatching and releasing the baby turtle hatchlings back into the South China Sea. Most of the time he has done this alone. Now the unsung hero has been recognized by the Terengganu Department of Fisheries as one of the few Official Licensees to rescue turtle eggs. Learning purely by trial and error, he developed his preservation skills to such a level that Kapas Turtles, the community group that he recently co-founded, is already consistently producing a high hatchling rate from rescued eggs in Terengganu.
An acronym for Research and Education on Environment for Future Sustainability – the REEFS Research Interest Group of UMT, is a multi-disciplinary research interest group focusing on research outcomes to tackle current environmental issues. Spearheading science and environmental conservation efforts through community, government and civil organizations, the group aims to become the focal point on coral reef-related matters at domestic and international platforms. Their vision is to be the drivers for especially coral reef conservation in Malaysia, whilst creating marine ambassadors to spread marine awareness.
During the evening, the launch of The International SeaKeepers Society Asia EduGrants programme which seeks to support higher studies in marine science at Republic Polytechnic as well as the National University of Singapore was announced. By providing the assurance and opportunity of educational resources to students, SeaKeepers believes that the future well-being of our planet can be safeguarded by ensuring the capability needed to support the protection and conservation of the ocean.
With the Society's commitment to community and creating an awareness of the health of the ocean, celebrating the wonders of our oceans and marine environment through song was also high on the evening's agenda with live performances by Singapore's King of Swing, Jeremy Monteiro, and performances of the winning songs from the 2020 International SeaKeepers Society Asia Songwriting Competition.
SeaKeepers would like to thank the following major sponsors for their event and programming support: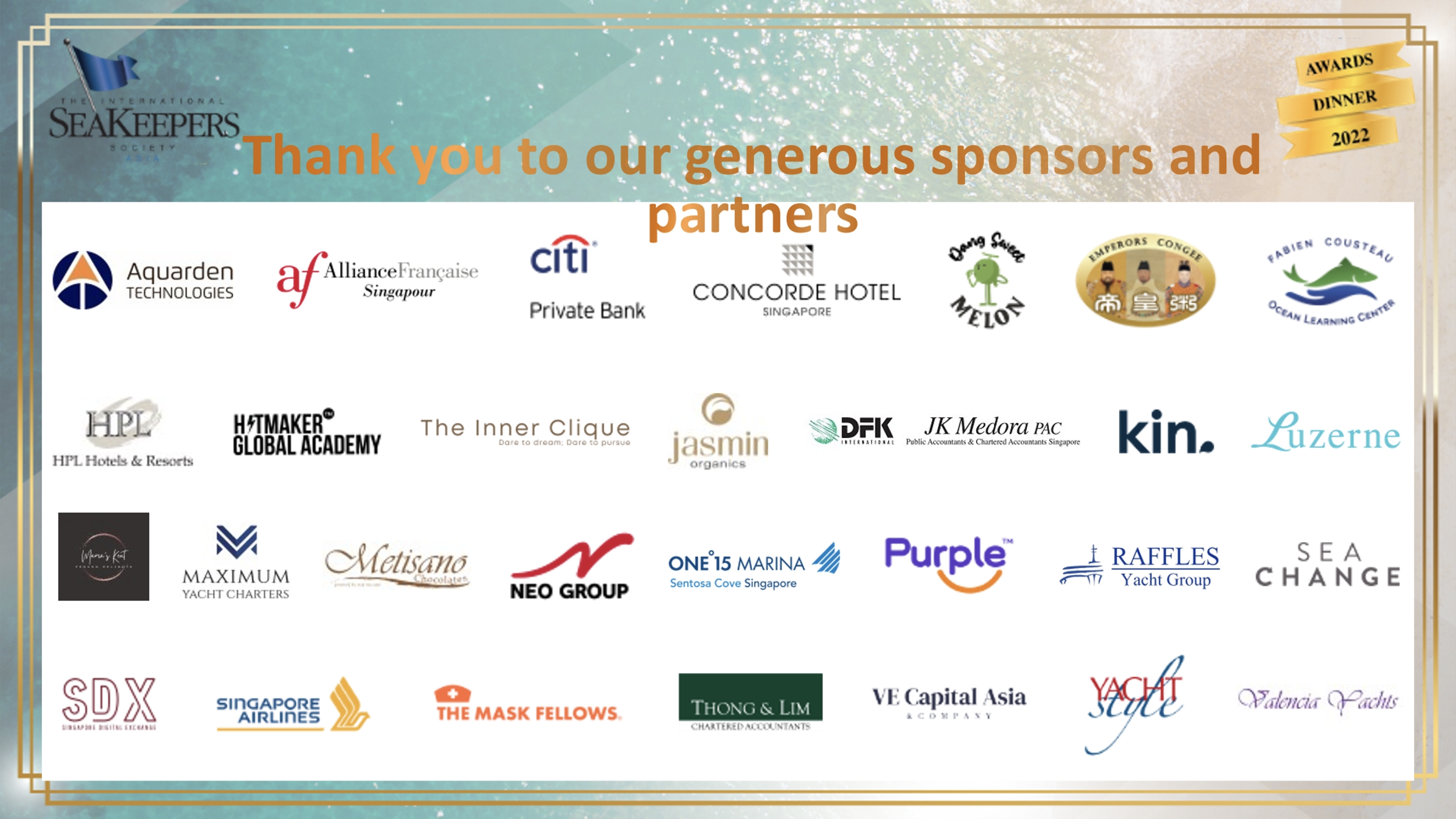 For event photos: https://drive.google.com/drive/folders/1rQubhEvKdYgQv2iTuDmZcPyvE30ke5G8?usp=sharing
For video on Rani Bin Awang: https://www.dropbox.com/s/lwm3fv218huz5fx/RANI%20VIDEO%20FINAL.mp4?dl=0
For more information visit www.seakeepers.org . Please contact:
Gail Tay, Director of Operations & Programmes, International SeaKeepers Society, Asia.
Email: [email protected] ; HP: +60 12 8225832.
Julian Chang, The International SeaKeepers Society Board Member and Asia-President,
Email: [email protected]
About The International SeaKeepers Society
The International SeaKeepers Society is a non-profit organization focusing on the health of the world's oceans and climate. SeaKeepers works with the boating and yachting community to take advantage of their unique potential in order to further marine research and to raise awareness about the issues our oceans face. The International SeaKeepers Society acts as a global catalyst working with governments, scientists, industry, and other marine organizations to further its mission and to support sensible, achievable marine protection and restoration.
The SeaKeepers DISCOVERY Yachts Program is our foremost initiative and has been at the heart of programming in accomplishing our mission and goals. These private vessels have provided an incredible platform for scientific research, instrument deployment and educational outreach to take place . The SeaKeepers team work closely with yacht owners and crew to coordinate research and outreach activities that reflect the yacht owner's ocean-related interests.
Our motto is Research, Educate, Protect and Restore achieved through our programming streams which include: Scientists led expeditions; instrument deployments, educational outreach and community engagement.
The International SeaKeepers Society established SeaKeepers Asia in 2016. This expansion with a new chapter in Asia is under the leadership of Julian Chang.
For more information visit: www.seakeepers.org or www.facebook.com/seakeepers