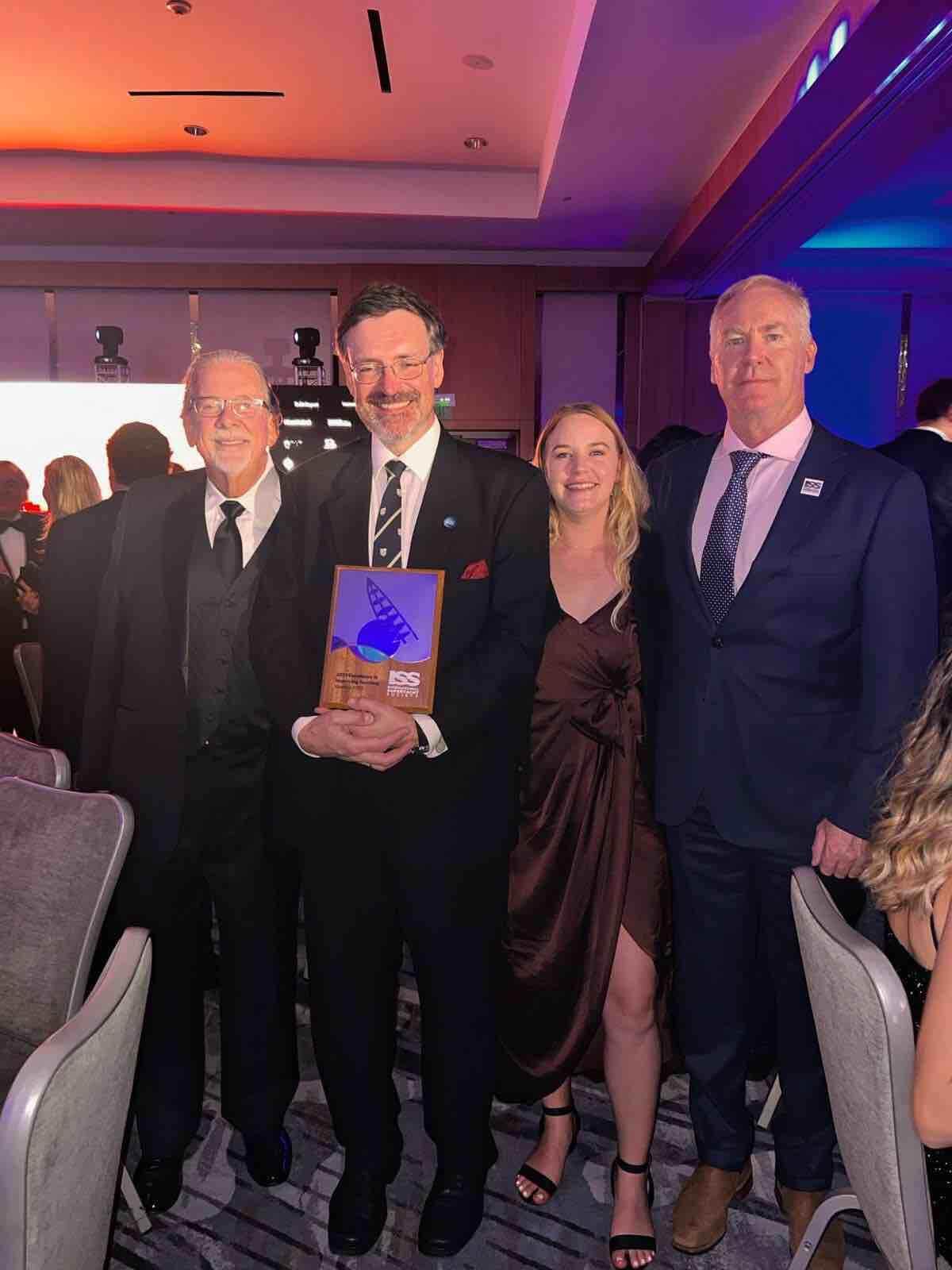 Dr. Mark Luther, SeaKeepers Science Advisory Council Chair, Dr. Brian Calder, Center for Coastal & Ocean Mapping/Joint Hydrographic Center University of New Hampshire, Katie Sheahan, SeaKeepers Citizen Science Manager & Zac Bailey, Moore & Co. Attorney.
Fort Lauderdale, Florida – The International SeaKeepers Society celebrated with program partners, the Nippon Foundation-GEBCO Seabed 2030 Project and DRIFT Energy, at the International Superyacht Society's Design & Leadership Awards on Thursday, October 26th at the Ritz Carlton during the Fort Lauderdale International Boat Show to recognize the achievements of the 2023 Award Recipients. It was an exceptional evening for SeaKeepers' partners: Dr. Brian Calder of the Center for Coastal & Ocean Mapping/Joint Hydrographic Center at the University of New Hampshire, accepted the Excellence in Improving the Image of Yachting Award on behalf of Seabed 2030; and Ben Medland of DRIFT Energy, accepted the Excellence in Technology Award.
The Excellence in Improving the Image of Yachting Award recognized Seabed 2030's role in enabling yacht owners to contribute directly to the gathering of essential new knowledge about the ocean, in addition to its role of fostering marine conservation and promoting responsible exploration. As the lead designer of the next generation of crowd-sourced bathymetry data loggers, Dr. Calder has supported the International Hydrographic Organization's (IHO) Crowdsourced Bathymetry Initiative since its inception, which is pivotal to Seabed 2030's success in delivering the GEBCO map.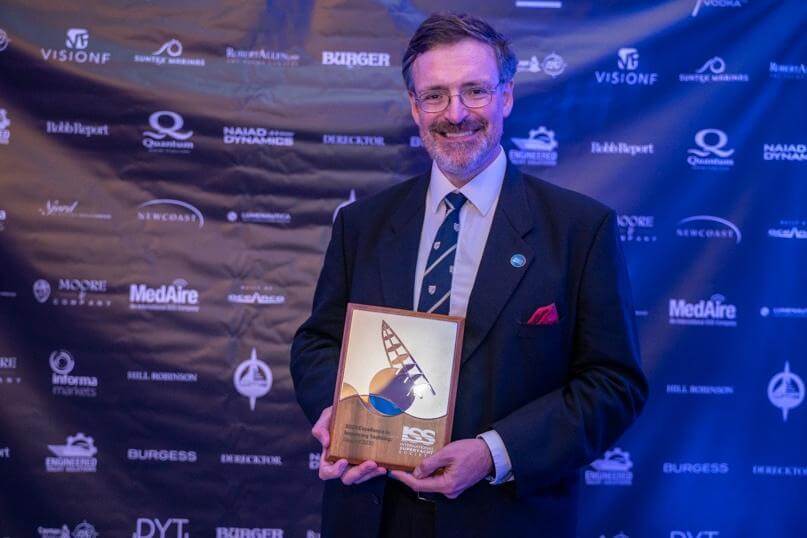 Dr. Brian Calder accepts the award on behalf of Seabed 2030
Accepting the Excellence in Improving the Image of Yachting Award, Dr. Calder said: "On behalf of Seabed 2030 and our parent organizations – The Nippon Foundation, GEBCO, IHO and IOC – thank you for this award. It's an honor to be selected, and we'd like to think of this as recognition of the power of partnerships in mapping our ocean world. Because without partnerships, without people actually on the water, people like you in the yachting world, it's going to be a hard haul to get to the 75% of the world ocean that still needs modern mapping. So, we're committed to empowering everyone who wants to demonstrate their passion for our ocean by contributing data."
Seabed 2030 Project Director Jamie McMichael-Phillips said: "It is an absolute honor to receive this award, which is a testament to the unwavering dedication and collaborative efforts of the international community in support of our global endeavor. We're grateful to the International Superyacht Society for this recognition, and to the yachting industry and the marine community who make our ambitious mission possible. It's thanks to our growing network of partners, including the esteemed SeaKeepers, that a sustainable future - for the ocean and planet - is within reach."

DRIFT Energy Founder & CEO, Ben Medland, received the Excellence in Technology Award saying: "This recognition gives us another boost to drive forwards with our mission to make #OceansOfEnergy." DRIFT Energy offers a cutting-edge pathway to net zero Superyachts through harnessing the energy available from the oceans. The MVY concept has launched at the Monaco Yacht Show and has been immediately heralded as the 'World's most super yacht'. The concept illustrates DRIFT Energy's plans to create a new class of 'true green' fuel generating vessels. Superyacht owners looking to spearhead the charge towards net-zero now have the ability to collaborate with DRIFT to personally make the transition. MVY - a 58m megawatt class energy vessel capable of generating, storing and delivering energy by itself, generates electricity using turbines that capture the kinetic energy of the sailing catamaran and stores this onboard as green hydrogen. When its tanks are nearly full the vessel proceeds to a designated port or location to offload. In the Superyacht context this can either be direct to the mothership or to bunker at her current port location. A single vessel is capable of generating over 140 tonnes of green hydrogen a year - a volume that would abate over 1,500 tonnes of CO2e a year."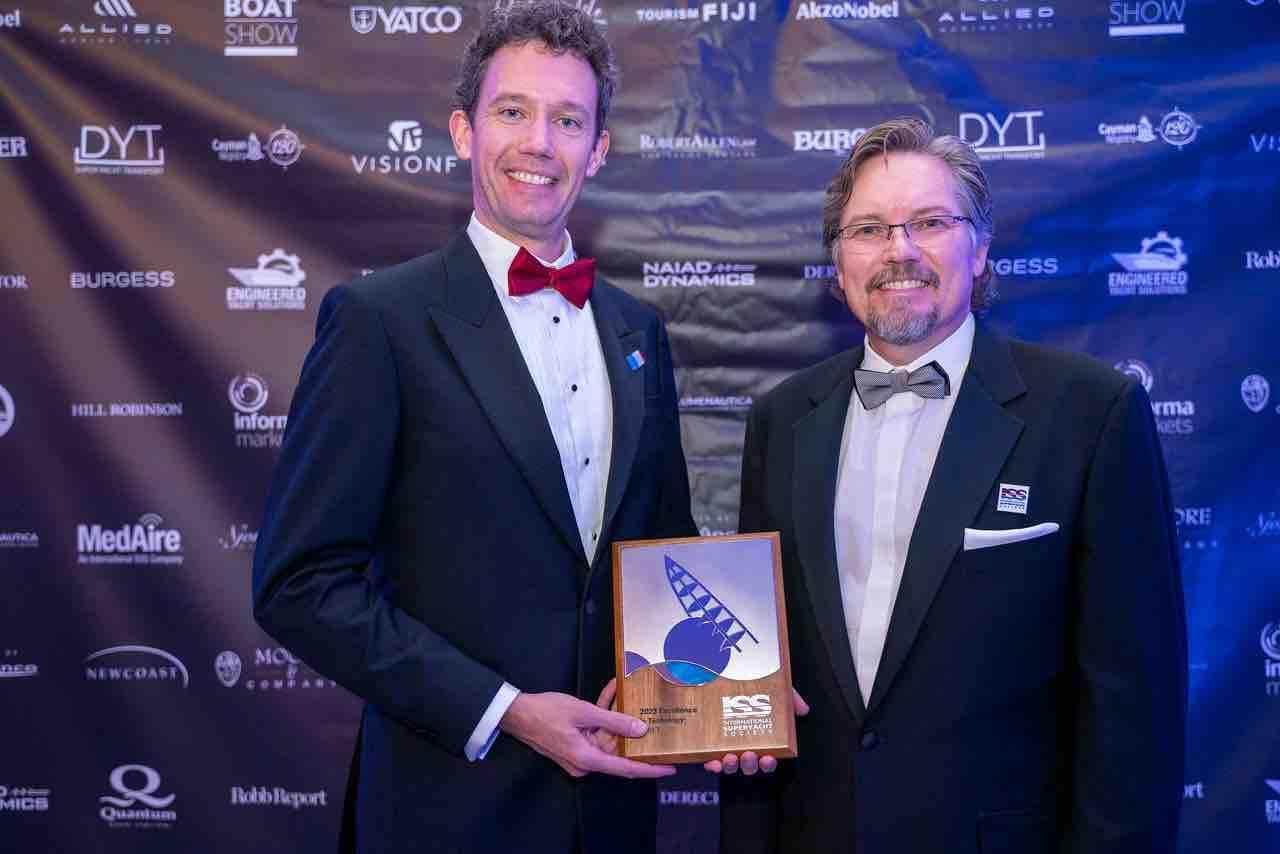 Ben Medland, CEO and Founder of DRIFT Energy receives award on behalf of DRIFT Energy.
"The vast majority of the world's renewable energy is over the Oceans, so what better way to harvest it than using sailing vessels?" says Ben. "As the UN Global Sustainable Development Report 2023 (GSDR) shows, there has been a regression in climate action in recent years, especially in carbon-heavy industries like marine, so we think it is time to add another, sustainable way to accelerate the much-needed reversal."
About The International SeaKeepers Society
The International SeaKeepers Society is a not-for-profit 501(c)(3) organization that facilitates oceanographic research, conservation, and education through direct involvement with the yachting community. Providing educational resources and hands-on marine science experiences to students is a primary focus for ensuring the well-being of our planet. SeaKeepers enables the yachting community to take full advantage of their unique potential to advance marine sciences and raise awareness about global ocean issues.
Founded in Monaco in 1998, The International SeaKeepers Society has been supporting ocean conservation through direct involvement with the yachting community for twenty-five years. What started as a data collection program aboard select luxury yachts, has evolved to engage thousands of participants annually with at-sea and coastal programming. Today SeaKeepers' mission is focused on the DISCOVERY Yacht Program which is comprised of Scientist-Led Expeditions, Citizen Science, Educational Outreach, and Community Engagement.
SeaKeepers is a catalyst working with governments, scientists, institutions, and other marine organizations to further its mission and support sensible, achievable marine protection and restoration. Activities take place globally through the efforts of headquarters based in the United States with offices located on the east and west coast, and international representation in Singapore, the United Kingdom, and the South Pacific. For more information, please visit www.seakeepers.org.
Contact Information:
Ivonne Gamboa
Director of Marketing & Public Relations
E: [email protected]
Gill Rodrigues
Director of International Relations
E: [email protected]
About DRIFT Energy
® DRIFT Energy's mission is to solve the world's biggest problem by using its biggest resource, the ocean. We do it by harvesting green hydrogen at sea and transporting it globally. Our technology is creating a new class of renewable energy and lends DRIFT multiple advantages over existing classes of renewable energy. DRIFT is an "AND" company, meaning we complement the existing energy grid. We love all forms of renewable energy generation. But it's time to add another planet-scalable solution and make #OceansOfEnergy.
About International Superyacht Society
Founded in 1989, ISS is the representative organization of the large yacht industry. Our mission is to build alliances worldwide, serve as the collective voice on issues affecting the industry, recognize achievement, and further strengthen the industry overall through regional and global committees, educational opportunities, and networking events.
The International Superyacht Society is a member-driven organization with a marketing and administrative staff that is reliant on the volunteer efforts of its Board and members. Funding for the organization comes directly from members and sponsors, and is used for initiatives that benefit the large yacht industry as a whole.
About Seabed 2030
The Nippon Foundation-GEBCO Seabed 2030 Project is a collaborative project between The Nippon Foundation and GEBCO. The Seabed 2030 Project, launched at the United Nations Ocean Conference in 2017 by Chairman Sasakawa of The Nippon Foundation, coordinates and oversees the sourcing and compilation of bathymetric data from different parts of the world's ocean through its five centres into the freely-available GEBCO Grid. Four Regional Centres cover the Southern Ocean, the Arctic and North Pacific Ocean, the Atlantic and Indian Oceans, and the South and West Pacific Ocean. These feed data products into the Global Data Centre. The IHO Data Center for Digital Bathymetry (DCDB) serves as the long-term archive for Seabed 2030.